150th Anniversary of the Andersonville Prison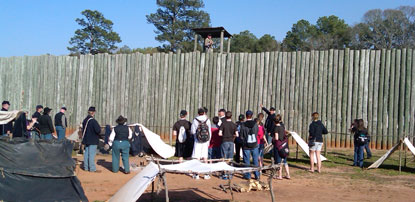 NPS/Eric Leonard
2011 to 2015 marks the 150th anniversary of the American Civil War. Through 2015, in programs, publications and special events, Andersonville National Historic Site will mark this important anniversary and explore how the story of Andersonville fits into the larger Civil War experience.
To learn more about the scheduled programs and the framework of the anniversary programming, click here.
Upcoming Programs and Events
2015

August 1: First Saturday
September 5: First Saturday
September 11-21: Avenue of Flags
September 18: National POW/MIA Recognition Day
September 18 & 19: Memorial Illumination
September 19: Funeral for 13,000
October 3: First Saturday
November 6-13: Avenue of Flags
November 7: First Saturday
November 14: Night Museum
December 5: First Saturday
December 12: Wreaths Across America
More information on these and other programs can be found in the Event Calendar.
Themes and Featured Prisons

Every two months during the anniversary period, the park will focus on a single word theme that represents the events, conditions, or emotions of prisoners during the war. To expand the prisoner story, the park will also feature other Civil War prisons and draw on their stories to present a fuller picture of the captivity experience.
| | | |
| --- | --- | --- |
| Month/Year | Theme | Highlighted Prison |
| January/February 2014 | Creation | Richmond Complex |
| March/April 2014 | Arrival | Rock Island, IL |
| May/June 2014 | Confinement | Camp Ford, TX |
| July/August 2014 | Desperation | Fort Delaware, DE |
| September/October 2014 | Evacuation | Camp Lawton, GA |
| November/December 2014 | Conversion | Temporary Camps |
| January/February 2015 | Negotiation | Camp Douglas, IL |
| March/April 2015 | Departure | Florence, SC |
| May/June 2015 | Apprehension | Coastal Fortifications |
| July/August 2015 | Accountability | Elmira, NY |
| September/October 2015 | Sacrifice | Salisbury, NC |
| November/December 2015 | Dedication | Fort Lafayette, NY |