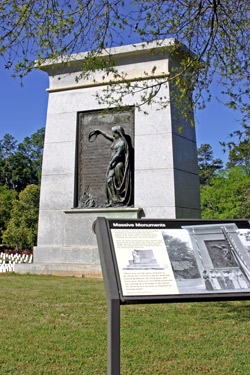 NPS/Andersonville National Historic Site
Built in 1911 but not dedicated until 1914, the New York monument rises prominently over the southwest quadrant of the cemetery. Reaching a height of twenty-one feet, the monument is constructed of granite with the New York State coat of arms affixed to the front and back. On the front of the monument is a bronze panel featuring dedication text and a female figure bearing a mourning wreath. On the rear is a bronze panel featuring a prison scene. Two prisoners, one old and haggard, the other young and hopeful sit inside the prison, the stockade wall and a guard tower clearly visible. Above them is an angel with an olive branch in her right hand.
For the monument dedication in 1914, the State of New York paid for 222 former prisoners to travel down to Georgia; the average age of these men was 72 1/2 years old. At the dedication service, 2,500 New York flags decorated the graves of the New York dead.