Professional Development
All too often the story of Andersonville is filtered by opinion and emotion in secondary source materials. A wealth of primary source material regarding prisoners of war and Andersonville exists which can be used to gain a better understanding of the Civil War prisoner of war experience at Andersonville and beyond.
Featured Item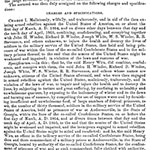 The Trial of Henry Wirz
Learn More
Take advantage of the teacher development opportunities in your national parks! There's no better way to bring math, science and history into real life than to experience them in action. Many of these workshops are designed to help teachers use park resources in the classroom, or to prepare classes for a park visit.