Professional Development
All too often the story of Andersonville is filtered by opinion and emotion in secondary source materials. A wealth of primary source material regarding prisoners of war and Andersonville exists which can be used to gain a better understanding of the Civil War prisoner of war experience at Andersonville and beyond.
Featured Item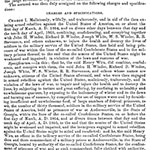 The Trial of Henry Wirz
Learn More
Selected teachers spend the summer working as park rangers, often living in the park. They perform various duties depending on their interests and the needs of the park, including developing and presenting interpretive programs for the general public, staffing the visitor center desk, developing curriculum-based materials for the park, or taking on special projects.
Join Our Team!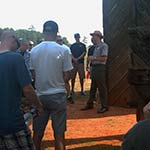 Teacher Rangers assist park staff
Learn More