New Operating Hours for the National Prisoner of War Museum

Beginning Monday, May 13, 2013, the National Prisoner of War Museum will adopt new operating hours of 9:00 a.m. to 4:30 p.m. daily. More »
Scouting Activities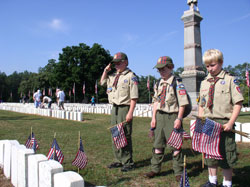 NPS/Andersonville NHS


Andersonville National Historic Site is pleased to work with Scouting groups. The park has a long tradition of working together with scout groups on service projects, Eagle Scout projects and merit badges. A long-standing historical hike program provides resource learning opportunities for all ages of scouts. The park also offers a primitive group camping area for scouting groups by reservation only.
Become a Scout Ranger at Andersonville! Explore the national parks; learn about the National Park Service mission; help protect the nation's natural, cultural, and historic resources. Participate in a volunteer service project or educational program and earn a certificate or patch.
Earn Merit Badge Requirements Using Andersonville Resources
Some or all of the requirements for the merit badges listed below can be fulfilled at Andersonville. Click on a badge's name to find out about fulfilling its requirements during a visit to the park or using park resources.
American Heritage
Archaeology
Citizenship in the Community
Citizenship in the Nation
Genealogy
Law
Pubic Speaking
Remember, park employees may not be registered Merit Badge Councilors. Scouts should refer to the District Merit Badge Councilor list available from their Scoutmaster. The descriptions provided at the links above are abbreviated and should be used in conjunction with the official BSA Merit Badge Book.
For more information about the resources listed, contact the park via email or call 229 924-0343.
Historical Hike

Take a 3-mile walking history lesson through Andersonville National Historic Site and the town of Andersonville. This historic hike is designed to acquaint young hikers with the story of Andersonville and American prisoners of war. Read More
Did You Know?

When rations were issued, the wagon would enter through the North Gate in the morning. In the evening, the wagon would then take the deceased prisoners from the South Gate and Hospital to the Dead House and eventually to the cemetery.