Andersonville Prison Historical Hike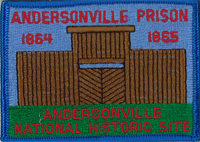 The Andersonville Historical Hike is a 3-mile walking history lesson through Andersonville National Historic Site and the town of Andersonville. This historic hike is designed to acquaint young hikers with the story of Andersonville and American prisoners of war. The hike is not along a physical trail, but allows an exploration of the park through the use of a questionnaire to direct your visit. Those interested in the hike should request a questionnaire at the information desk of the National Prisoner of War Museum. The hike begins in the National Prisoner of War Museum, continues outside through the historic prison site, into the town of Andersonville and ends in Andersonville National Cemetery. An optional fully embroidered patch is available for those who complete the hike.
Did You Know?

In preparation for the New Jersey Monument placed in the National Cemetery in 1899, researchers 'rescued' the name of Pvt. John Henry Bell, Company M Second New Jersey Cavalry. Bell had been on the records as a deserter for 34 years. More...