Bear Viewing in Alaska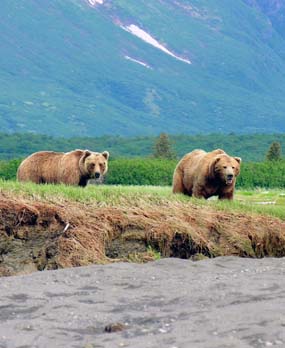 nps photo
Bears in Alaska
Symbolic of the Alaska wilderness, both grizzly bears and black bears inhabit southcentral Alaska and may be encountered in the backcountry. To keep these magnificent creatures wild and enhance your personal safety, keep the following in mind:
Make noise while hiking to alert bears of your presence
Use Bear Resistant Food Containers and store them 100 yards (meters) from cooking areas and tent sites
Be alert for bears and alter your activities to avoid them
Never run from a bear
Pepper spray can be carried as an added precaution. However, it is useful only as a last resort in the event of an emergency, and should not be viewed as substitute for proper backcountry behavior.
When you visit Alaska Public Lands Information Center, inquire about detailed information about hiking in bear country.
Did You Know?

It now seems to be generally accepted that salmon find their way back to their spawning rounds through their acute sense of smell. Just as each major city of the world has its own set of identifiable odors, and each stream apparently has a unique set.