Brochures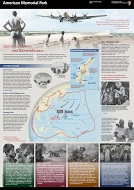 American Memorial Park Brochure PDF Format
Open in Adobe Acrobat Reader (free program) or other electronic publication reading applications. Accessibility enhancements in the PDF format include mouse-over alternate text for an alternative representation of images and read-out-loud text for the blind. (Side One: 3.4 MB; Side Two: 9 MB)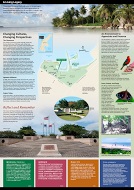 American Memorial Park Brochure eBook Format
eBook Version available at:
https://itunes.apple.com/us/book/american-memorial-park/id879532818?mt=11
Open in iBook App (free download from the iTunes App Store for iOS devices). For reading on iPad or desktop computers running OS X Mavericks. Accessibility enhancements in the eBook format include enlargeable maps, alternate text for an alternative representation of images, and voice-over for the blind. (33.2 MB)
Did You Know?

At the end of war, President Harry S. Truman provided these words to the people of Japan, "As we approach the peace table, let us be free of malice and hate to the end that from here on there shall be neither victors nor vanquished among us, but only equal partners in the partnership of peace."