Brochures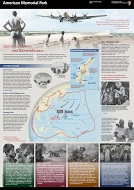 American Memorial Park Brochure PDF Format
Open in Adobe Acrobat Reader (free program) or other electronic publication reading applications. Accessibility enhancements in the PDF format include mouse-over alternate text for an alternative representation of images and read-out-loud text for the blind. (Side One: 3.4 MB; Side Two: 9 MB)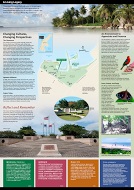 American Memorial Park Brochure eBook Format
eBook Version available at:
https://itunes.apple.com/us/book/american-memorial-park/id879532818?mt=11
Open in iBook App (free download from the iTunes App Store for iOS devices). For reading on iPad or desktop computers running OS X Mavericks. Accessibility enhancements in the eBook format include enlargeable maps, alternate text for an alternative representation of images, and voice-over for the blind. (33.2 MB)
Did You Know?

Colonel Paul Tibbets and the crew of the Enola Gay flew their B-29 to Tinian Island, accompanied on Tinian by the B-29 "Bocks Car." The components for the two atom bombs, "Little Boy" and "Fat Man" were brought to Tinian by air, and the critical atomic core was sent by sea.