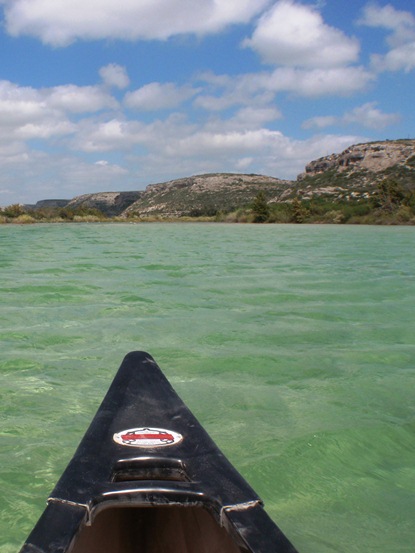 NPS Photo
Amistad Reservoir has plenty of wide-open water as well as steep-walled river canyons, making it a great place for paddling a kayak or canoe. The following routes are suggestions only; they are not marked on shore or in the water.
Important: Be sure to bring plenty of drinking water, a large brimmed hat for shade, sunglasses, a long sleeved shirt and pants. Please be environmentally conscientious and pack out all of your trash. Do not use glass containers. Remember that all things living and nonliving are protected under federal law. Take only pictures, leave only footprints.
Remember: Cell phone coverage is very limited. Also, park rangers cannot respond for assistance if you get stranded on the Mexican side of the reservoir.
Winds typically average 15-20 mph, but 20-30 mph winds are not uncommon. Winds are typically from the south or southeast; however, north winds can occur (especially in the fall and winter), but usually do not last more than a day or so. Visit our Current Conditions page for current water levels, river flow links, and weather forecasts.
Paddle Trails
Paddle Trail #1
(98 KB)
Spur 454 to San Pedro Creek. This area is an excellent day trip. Put in at Spur 454; paddle east. There are numerous coves to explore, picnic, or swim.
Paddle Trail #2
(98 KB)
Spur 406 to Evans Creek. This area is an excellent day trip, especially when strong south or southeast winds are present. Put in at Spur 406. This area offers excellent birding and is much like Spur 454.
Paddle Trail #3
(167 KB)
Box Canyon to Cow Creek. This is a nice day trip and offers excellent overnight camping. Put in at the Box Canyon ramp and paddle upriver. It is about 2.5 miles to Cow Creek. This area offers unique scenery with vertical cliffs. You can enjoy excellent fishing. There are great spots for primitive camping.
Paddle Trail #4
(177 KB)
Rough Canyon to Indian Springs. A 16-mile round-trip paddle with frequent strong head winds for the return, so best enjoyed as an overnight trip. Put in at the Rough Canyon boat ramp, head upriver 8 miles to Indian Springs. There are excellent places to camp on the right (east) before you get to the springs and also to the left (west) under the trees. The springs come right out of the rock just beyond Indian Springs Canyon. The water is clear and cold and millions of gallons cascade down the rocky cliffs into pools before they reach the lake.
Paddle Trail #5
Pecos to Parida Cave. This trip is short but provides a good opportunity to experience both scenic canyons and 4,000 year-old Native American rock art. Put in at the Pecos boat ramp and head downriver to the confluence with the Rio Grande. Continue downriver (left) on the Rio Grande until you see a large rock shelter with a courtesy boat dock. Parida Canyon (a noticeably large canyon) is opposite the shelter on the Mexican side of the Rio Grande.
Paddle Trail #6
Pecos to Panther Cave. Follows Paddle Route #5, but continues downriver from Parida Cave for a distance of about 8 miles from the Pecos boat launch. Panther Cave is one of the best preserved Lower Pecos River style rock art sites. Due to the distance required, lack of good campsites, and frequent strong winds funneling through the canyons, this trip is recommended only for experienced, strong paddlers.
Paddle Trail #7
Pecos to Pecos Railroad Bridge. Approximately 6 miles upriver from the Pecos boat ramp is the Pecos railroad bridge, also known as the "High Bridge." Paddling this part of the Pecos River is an excellent day trip. The tall, scenic limestone cliffs surround you, while offering side canyons to explore and wildlife watching opportunities. Birding is especially good all seasons.

Stopping underneath the High Bridge and waiting for trains to go overhead can be an exciting highlight of this trip. Next, paddle a short way upriver from the bridge and look river left for remnants of an old pump house. Here water was pumped up from the river to a water tank used by the old steam engines during the late 1800s. You might be able to see the concrete pilings of the old, rickety steel bridge of the 1890s on either side of the river near the pump house.

If you want to make the trip longer and camp out, the Pecos offers breathtaking scenery upriver to Dead Mans Canyon and ultimately to Shumla Bend at the end of the park boundary 14 miles from the confluence of the Rio Grande. It can be done in one day (if you are an experienced paddler), but is best enjoyed when you have several days to explore the beauty the Pecos River offers. The fishing is good, too.
Devils River Trip
Baker's Crossing to Rough Canyon. This 47.7-mile trip is suitable only for experienced paddlers who are prepared to spend at least three days on the river. The trip starts from SH 163 at Bakers Crossing (paddler access via TPWD right-of-way) and continues to Rough Canyon. Paddlers enter Amistad National Recreation Area near Pafford Crossing (river mile 33). Take-out is on Lake Amistad at Rough Canyon (beyond river mile 47). Caution is advised beyond river mile 36 as strong head winds, choppy lake water, and motorized boat traffic may exist.
For more detailed information on this trip, visit Devils River State Natural Area Preparing for a Devils River Trip page.