Black Brush Boat Ramp Now Open

The low water boat ramp at Black Brush is now open. More »
Hunting
Public Hunting Opportunities Are Available at Amistad National Recreation Area at a Nominal Cost
Superintendent Alan Cox says, "In these tough economic times, the National Park Service is pleased to offer the public inexpensive ways to recreate and spend time with their family and friends."
The 2014-2015 Hunting Season at Amistad National Recreation Area begins September 1, 2014, and ends February 22, 2015.
Five specific public hunting areas will be available for archery and shotgun hunting at Amistad National Recreation Area during the 2014-2015 hunting season. White-tailed deer, javelina, turkey, rabbit, exotic mouflon sheep, exotic aoudad sheep, exotic blackbuck antelope, and feral hog can be hunted with compound, recurve, and long bows. Dove, quail, duck, and rabbit can be hunted with shotgun and birdshot. The use of rifles or handguns is prohibited at Amistad National Recreation Area.
Starting on August 15, 2014, hunters can obtain a $20.00 National Park Service Annual Hunting Permit by appearing in person at the Visitor Information Center on US 90, five miles west of Del Rio, Texas. The Visitor Information Center is open daily from 8 am to 4:30 pm. Bring your Texas Hunting License and photo ID. The Annual Hunting Permit authorizes the hunter to hunt in all five of the designated hunt areas for the entire 2014-2015 hunting season, as indicated in the National Park Service Hunting Regulations.

A copy of Amistad National Recreation Area 2014-2015 Hunting Regulations
(17.8 MB) is available to read, print, or download. A printed copy of these hunting regulations is also available at the Visitor Information Center. We urge you to read the hunting regulations carefully, as National Park Service Hunting Regulations are more restrictive than the Texas Parks and Wildlife Department Hunting Regulations.
Be Safe! There are poisonous reptiles and insects, plants with thorns and spines, caves and sinkholes present throughout the park. Use caution and pay attention to your surroundings. To report an emergency, call 911. For non-emergencies, call the Val Verde County Sheriff at 830-774-7513 and request the assistance of a park ranger. We recommend that you carry safety items such as a flashlight, compass, first aid kit, maps, and water.
All archeological features and artifacts are protected by Federal law.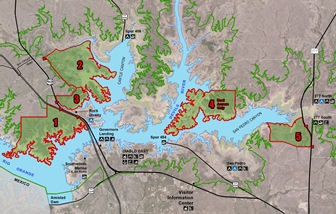 Hunt Area Maps

Amistad Hunt Areas
(2.98 MB)
Hunt Area 1
(1.92 MB)
Hunt Area 2
(2.06 MB)
Hunt Area 3
(1.93 MB)
Hunt Area 4
(1.64 MB)
Hunt Area 5
(1.72 MB)
Did You Know?

The first Southern Transcontinental Railroad was completed in January 1883 by driving a silver spike into the track at a location on the Rio Grande just upriver from the confluence with the Pecos River. More...