The Spur 454 Boat Ramp is now open.

Spur 454 Boat Ramps is now open. Off road driving is not permitted anywhere except on designated park roads.
277 North Camp Ground Closed

The 277 North camp ground is now closed due to the low lake levels. Other camp grounds that are in the near area are San Pedro camp ground and the Rough Canyon camp ground.
Shallow crossing at the mouth of the Pecos River

Boaters should use extreme caution when navigating thought the confluence of the Pecos and Rio Grand River a miscalculation could get you stuck on a muddy sand bar. Only small shallow-draft boats can pass thought this part of the river.
Operating Hours & Seasons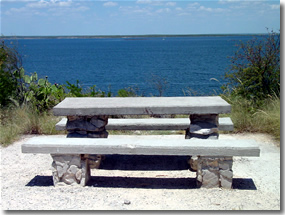 Amistad Visitor Information Center is open 7 days a week, 8 a.m. to 5 p.m., year-round, except December 25. more>>
All Day Use Areas including Governors Landing, all other picnic areas, and viewpoints located throughout the park close at dark.
Winter is the busiest season at Amistad National Recreation Area with typically mild temperatures. Summer temperatures can be quite high, making it ideal for heat-lovers.
Quiet Hours at National Park Service campgrounds are between 10 p.m. and 8 a.m.
Hunting season in the 5 hunt areas of Amistad begins September 1, and runs through the last day of quail season in February. A valid Texas hunting license and Amistad NRA hunting permit are required. more>>


Did You Know?

With an estimated 1,400,000 prehistoric artifacts in the park's museum collection, Amistad National Recreation Area has the third largest collection in the National Park Service.