Black Brush Boat Ramp Now Open

The low water boat ramp at Black Brush is now open. More »
Operating Hours & Seasons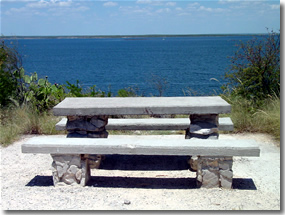 Amistad Visitor Information Center is open daily from 8 am to 4:30 pm year-round. A listing of visitor services is available on our Indoor Activities page.
Day-use areas are open from dawn to dusk. This includes Governors Landing and all other picnic areas and viewpoints located throughout the park.
Picnicking within Governors Landing campground is allowed from 7 am until 3 pm, then the individual(s) must either vacate or pay the regular camping fee.

Quiet hours in Campgrounds are between 10 pm and 6 am.

Hunting season in Amistad's five hunt areas begins September 1st and runs through the last day of quail season in February. A valid Texas hunting license and Amistad hunting permit are required. More information is available on our Hunting page.


Did You Know?

With an estimated 1,400,000 prehistoric artifacts in the park's museum collection, Amistad National Recreation Area has the third largest collection in the National Park Service.