The Spur 454 Boat Ramp is now open.

Spur 454 Boat Ramps is now open. Off road driving is not permitted anywhere except on designated park roads.
277 North Camp Ground Closed

The 277 North camp ground is now closed due to the low lake levels. Other camp grounds that are in the near area are San Pedro camp ground and the Rough Canyon camp ground.
Shallow crossing at the mouth of the Pecos River

Boaters should use extreme caution when navigating thought the confluence of the Pecos and Rio Grand River a miscalculation could get you stuck on a muddy sand bar. Only small shallow-draft boats can pass thought this part of the river.
Directions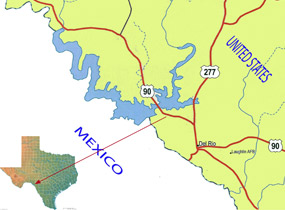 GETTING THERE

Car
Amistad National Recreation Area is located on the US and Mexico border near Del Rio, Texas and is between San Antonio and Big Bend National Park. The park is 150 miles west of San Antonio on US Highway 90, and about 250 miles east of Big Bend via US Highways 90 and 385. Access to Amistad from the north or south is on US Highways 277 and 377.
Plane
Continental Airlines provides service between Del Rio (DRT) and Houston.

Public Transportation
Bus and AMTRAK (rail) stations are located in Del Rio on 1 North Main Street. For AMTRAK information dial 1-800-USA-RAIL. For bus service call Del Rio Multi-Modal Transportation Center at (830)775-7515.
Print your own Amistad map
For your own detailed map of Amistad National Recreation Area please click here.


Did You Know?

At the time of its 1892 construction, the Pecos River Viaduct was the tallest railroad bridge in the United States - standing at just over 322 feet in height. More...