New Visitor Center Hours

As of Sunday, March 9, 2014 the Visitor Center will be open seven days of the week from 8 am to 4:30 pm.
Directions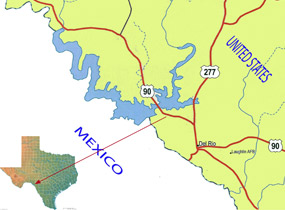 GETTING THERE

Car
Amistad National Recreation Area is located on the US and Mexico border near Del Rio, Texas and is between San Antonio and Big Bend National Park. The park is 150 miles west of San Antonio on US Highway 90, and about 250 miles east of Big Bend via US Highways 90 and 385. Access to Amistad from the north or south is on US Highways 277 and 377.
Plane
Continental Airlines provides service between Del Rio (DRT) and Houston.

Public Transportation
For AMTRAK information dial 1-800-USA-RAIL.
Print your own Amistad map
For your own detailed map of Amistad National Recreation Area please click here.


Did You Know?

With an estimated 1.4 million prehistoric artifacts in the park's museum collection, Amistad National Recreation Area has the 3rd largest collection in the National Park Service.