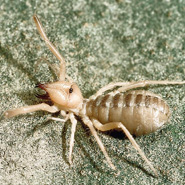 Kansas Department of Agriculture, Kansas State University www.pdis.org
Straight-Faced Solifugids
Family Eremobatidae:
Also known as wind scorpions, straight-faced solifugids are characterized by their distinctive, vertically curved jaws. Unlike other scorpions, they are only able to walk on three pairs of legs, using their slender first pair as sensor organs. Though many people wrongly consider these nocturnal wind scorpions venomous, they lack venom sacks. They are, however, capable of inflicting a painful bite. Like spiders, males are generally smaller and have longer legs. Straight-Face Solifugids only live up to one year.