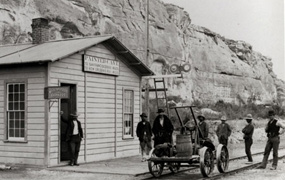 Courtesy Barker Texas History Center of UT Austin
The Shumla Station was used by the Southern Pacific from 1883 to 1893. In 1893, the Shumla cut-off, just east of the town, was completed to the new Pecos River High Bridge, eliminating the treacherous decent of the Rio Grande Valley to the crossing of the Pecos at its mouth.

The remains of Shumla Station are located about 8 miles west of the Pecos River adjacent to the modern tracks which parallel U.S. Highway 90. There are several old limestone block buildings within the highway right-of-way in this area but they were not part of the Shumla Station. These buildings were built after WWII by Parkie Wade's father who owned and operated them as a gas station, store, and small motel until the early 1970s. The old Shumla Station is located about 100 yards northwest of the limestone buildings and situated on the north side of the modern Southern Pacific track. Several large trees denote the former location of Shumla Station. The actual Shumla Station depot was moved by Mr. Bill Zuberbueler Sr. using a sled and wagon to a location about 1/2 mile to the south. Today, the old Shumla Station depot is located adjacent to a sheep shearing pen and is used as a barn.
Flanders Station was located at a mile marker 433, as measured in miles from Houston. The old station was situated on the west side of Seminole Canyon roughly 1/4 mile north of U.S. Highway 90. The historic artifacts scattered in the vicinity of where Flanders Station once stood have been designated as site 41VV415.
In the 1920's, Pat Sullivan leased land from Patty Moorehead Wilkins for ranching on the Rio Grande. The lease was along the Rio Grande from the mouth of the Pecos River to Seminole Canyon on the east and to the Pecos River High Bridge on the north. During the summers, when children were not in school in Comstock, the Sullivans (and frequently their neighbors, the Holcombs and Moores) would spend extended periods on the ranch. "The historic old depot was used for the kitchen and dining area and a separate building served as the sleeping quarters" (Kathleen Sullivan Grigsby 1976:155).

The old depot and associated buildings stood at their original location until the mid-1920s when Mrs. Fate Moorehead Bell moved the depot building on skids and by wagon to a new location about 1/2 mile south of its original location. The land and the building were leased to and eventually homesteaded by Perry Brotherton. The land and the original Flanders Station are now part of Seminole Canyon State Historic Park.