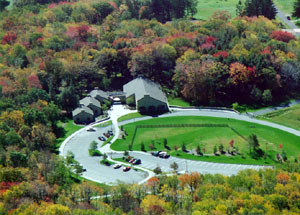 NPS
Hours
Open 9 a.m. to 5 p.m. daily
Days Open
7 days per week
all year
Closed winter Federal holidays: Thanksgiving Day, December 25, January 1, Martin Luther King Jr. Day (3rd Monday in January), Presidents Day (3rd Monday in February).
Contact Information
(814) 886-6150
Allegheny Portage Railroad National Historic Site
110 Federal Park Road
Gallitzin, PA 16641
GPS Warning
Some units may direct drivers into the town of Gallitzin instead of to the park. These users report putting the town as "Cresson" instead of "Gallitzin" produces the correct driving directions. You may wish to verify your route using a roadmap. Regardless of which direction you are driving on U.S. Route 22, the Gallitzin Exit followed by a right turn will take drivers to the park visitor center.

Best Directions
Take the Gallitzin Exit of U.S. Route 22 and turn right into the park.
Visitor Center Contents
Park Film
The park movie is shown in the indoor 60 seat auditorium as requested to give a concentrated overview of the park story. The program lasts approximately twenty minutes. The movie is a dramatic interpretation of what it was like to work and travel on the Portage Railroad. A fictional character, Edgar West, explains life on the canals then speaks of a change of occupation to Portage Railroad worker. Edgar relates a story of blasting the Staple Bend Tunnel as well as general building techniques. He uses written accounts by writers such as Charles Dickens and local newspapers to speak of the value of the Mainline system and the thrill of faster travel.
Exhibits
Approximately 19 informational panels, 6 models including a life- size model of the locomotive Lafayette, and 18 artifacts from the Portage Railroad are visitor center highlights. There are other exhibits on the park grounds and in the Engine House 6 Exhibit Shelter, the Lemon House, and along several park trails.
Bookstore
The park's non-profit Eastern National run bookstore carries unusual and hard to find books and souvenirs from the canal and early railroading era. Eastern National has published or reprinted books specifically related to park features or the park story. These would include a booklet on the Lemon House, the Sylvester Welch Report, and A Pleasant Peregrination through the Prettiest Parts of Pennsylvania (1836). Souvenir items include collectibles such as park magnets, keyrings, mugs, patches, pins, decals, coal-in-a-bottle, and brass coins as well as many other fun and educational items.
Fee Collection Station
The visitor center serves as the park's entrance fee collection station. Visitors pay the $4 per person (ages 16 and up) fee, can purchase the Southwestern Pennsylvania Parks Pass ($15 per year, covers passholder and 3 other adults for entry to Allegheny Portage Railroad NHS, Johnstown Flood National Memorial, and Fort Necessity National Battlefield, unlimited visits on valid pass), and can purchase the national America the Beautiful pass, Senior America the Beautiful pass, or Access America the Beautiful pass depending on visitor needs and qualifications.
Information Desk

Information Desk and bookstore