Road Closure

Please be aware that part of the public area loop has been closed until further notice as the park starts preparatory efforts for this summer's paving project on the Picnic Area Road.
The Lemon House Tavern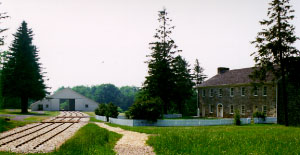 NPS
Hours
Open 9 a.m. to 5 p.m. daily
Days Open
7 days per week
all year
Closed Federal winter holidays: Thanksgiving Day, December 25, January 1, Martin Luther King Jr. Day (3rd Monday in January), Presidents Day (3rd Monday in February)
Directions
You walk to the Lemon House historic tavern from the park visitor center either by following the boardwalk or the old Gallitzin Road. There is NO PARKING at the Lemon House. The main parking is at the park visitor center. Additional parking is available at the park picnic area. Picnic area parking requires a one half mile hike on trails through the woods to get to the Lemon House.
Tours
Self guided tours through the first floor plus the first floor exhibit room seem to be most desired. Park staff, as available, may greet visitors and guide you through the building.
For more information on the history of the Lemon House look under HISTORY & CULTURE.
Did You Know?

When the Portage Railroad opened on March 18, 1834, it was a single track line. The rule was when 2 drivers met the one who had passed the center post had the right to go on. The other driver had to back up. Some sat nose to nose until a magistrate determined who got to the center first.