Things To Do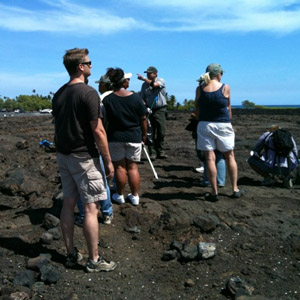 HEADS UP
American Hiking Society's National Trails Day® is the country's largest celebration of trails. Mark your 2014 calendar for Saturday, June 7 to prepare for the celebration. Check HERE in May 2014 for Hawai`i island events and opportunities for putting your feet on the trails.
Will you travel by foot on the paths used by many generations near Pu'ukoholā Heiau National Historic Site? Will you ride a canoe, kayak or surfboard to experience blue water trails off the shores of Kaloko-Honokōhau National Historical Park? Will you go on mauka makai trails possibly used to transport goods between the uplands and the seashore at Hawai'i Volcanoes National Park? Will you discover an old cart road or old government roadway at Pu'uhonua o Hōnaunau National Historical Park? What will you think of doing to discover a trail on National Trails Day?
For national updates, visit the American Hiking Society website.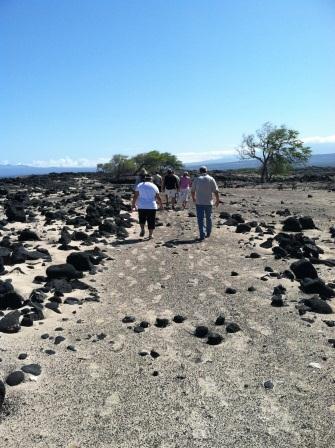 2013 National Trails Day®
Let the beauty of 175 miles of trails leave a lasting impression on you. What portion of trails within Ala Kahakai National Historic Trail (NHT) corridor will you allow to impress you? The only national trail in Hawaii traverses Hawaii Island from Upolu Point in North Kohala passing through County, State, and National Parks along the west coast then continues around Ka Lae (South point) to Hawaii Volcanoes National Park. The families, the people, the land and the ocean all connect with each other to make the trail come alive as a "living" classroom and provider of sustenance.
American Hiking Society's National Trails Day® (NTD) is an annual celebration of America's magnificent Trail System held on the first Saturday of June. It features a series of outdoor activities, designed to promote and celebrate the importance of trails in the United States.
For 2013, the National Park Service and community groups on Hawaii island, are planning guided ranger hikes as well as beach cleanups. At each event, a limited amount of Ala Kahakai NHT pins and two water bottles will be given away.
· Join the first Ala Kahakai NHT National Trails Day Facebook challenge on the trail's official Facebook page. Send in pictures of the trail to show what left an impression on you. The site will be open for posts from June 1-10, 2013. Link to facebook.
· For kids: American Hiking Society coloring contest by LOWA Kids. Children ages 1 to 12 can enter to win a prize pack. For coloring contest information, color here.
· For Scouts: Boy Scouts of America is issuing a special 20 years of trail work patch. Girl Scouts can earn the "Get with the Land" patch. Link up here Boy Scouts and Girl Scouts
June 1, Saturday
Pu`ukohola Heiau National Historic Site, Kawaihae
Guided hikes. Info at 882-7218 or www.nps.gov/puhe
Kaloko-Honokohau National Historical Park, Kona
Ranger hike. Meet at 9am for a 1 mile round trip hike from the Park Visitor Center to Aiopio fish trap. Be prepared with water & sun protection and wear closed toed covered shoes. Info at 326-9057 or www.nps.gov/kaho
Pu`uhonua o Honaunau National Historical Park, South Kona
20 minute orientation by park ranger at 10:30, 11:00, 1:30 and 2:30. Meet at park amphitheater. Info at 328-2326 or www.nps.gov/puho
Hawaii Volcanoes National Park, Volcano
Exploring the Summit hike at 1030am and 130pm. Meet at the visitor center relief map to enjoy a 45-minute, 1 mile walk on a paved trail. Info at 985-6000 or www.nps.gov/havo.
Hui Aloha Kiholo, Kiholo
"Join Hui Aloha Kiholo at beautiful Kiholo State Park Reserve for a day of trail maintenance and exploration in a place of exceptional beauty and historical significance. We will be working on a segment that connects two historic trails, the Kiholo -Hu`ehu`e Trail and the Ala Kahakai National Historic Trail. We will be improving the trail and trimming trees along a 3/4 mile route in a sparse kiawe forest and crossing two old lava flows.
We will be meeting at 8:30 am at the Loretta Lynn House near Waiaelepi and assigning work crews to specific sections of the trail. We will work to about 11:30 am and break for a potluck lunch. After lunch, we will venture on a guided hike to a destination to be determined by the group. We expect that we will return from the hike at about 2:30 - 3:00.
Please be prepared for hot conditions - hat, sunscreen, and plenty of drinking water. Small hand saws (no chainsaws), loppers, sturdy shoes (no slippers) and work gloves. Bring a dish to share at the potluck - Hui Aloha Kiholo will provide plates and utensils, BBQ chicken, rice, drinks, and a grill. Optional: bring swimwear, hiking shoes, camera, binoculars, hiking stick. Hope to see you there on National Trails Day!"
RSVP REQUIRED at kukuiplanning@gmail.com
Contact phone: 808 936-7526 or www.huialohakiholo.org

June 15 Saturday
Hapuna beach cleanup: Keep Puako Beautiful and Hawaii Wildlife Fund will team up with Keep Hawaii Beautiful, Recycle Hawaii, Hawaii State Parks, and Ala Kahakai National Historic Trail to host a shoreline hiking cleanup from Kanekanaka Point to Hapuna Point. Meet at 7am at "Beach 67". Flyer with details will be posted on June 8, 2013 at www.nps.gov/alka


Did You Know?

Did you know the Ala Kahakai National Historic Trail covers over 170 miles of shoreline along the coast of the Island of Hawai'i?