In World War II Gaylord Tapp became part of the 50th Engineer Combat Battalion, Company A. He served in the Pacific Theatre building facilities where needed; roads, barracks, bridges, runways. He learned to lay and retrieve land mines as well. He talks about having gone through five D-days with landings on Attu where he was nearly killed in a Japanese Bonzai attack, Kiska, Kwajalein, Leyte - where a bomb in an ammunition dump buried Tapp's company alive - and Okinawa. He survived where many in his company perished.
For his service he received the Asiatic Pacific Theatre Service Medal, Philippine Liberation Ribbon with bronze stars, four overseas service bars, no time lost lapel button, four discharge emblems, a Good Conduct medal, and a Purple Heart with Oak Leaf Cluster for injuries sustained in battle.
Learn more by listening to this interview with Mr. Tapp, conducted by his granddaughter Brooke, and by browsing photos, his
service record
and
a history of the 50th Combat Engineers
.
Download a full transcript of Gaylord's interview with his granddaughter Brooke, and read a short story she wrote about him.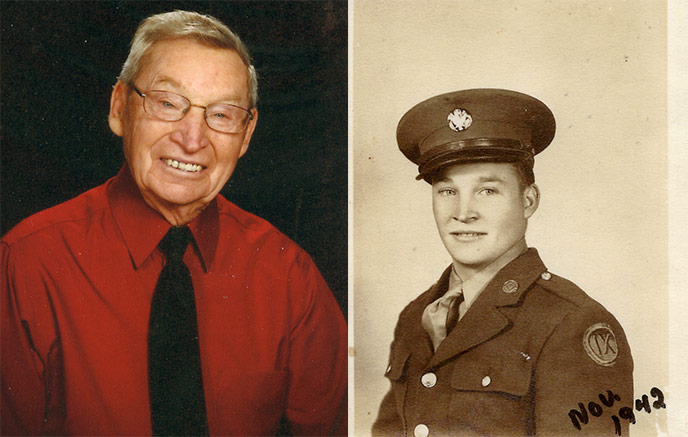 Courtesy of Gaylord Tapp
Gaylord Tapp

4 Photos

A member of the 50th Engineer Combat Battalion, Gaylord built runways and facilities across the Pacific Theatre and twice earned the Purple Heart.