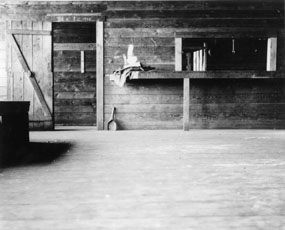 Courtesy Aleutian/Pribilof Island Association and the National Archives.
"In 1942, my wife and our four children were whipped away from our home... all our possessions were left... for mother nature to destroy.... I tried to pretend it was really a dream and this could not happen to me and my dear family."
-Bill Tcheripanoff, Sr., of Akutan
In response to Japanese aggression in the Aleutians, U.S. authorities evacuated 881 Unangax from nine villages. They were herded from their homes onto cramped transport ships, most allowed only a single suitcase. Heartbroken, Atka villagers watched as U.S. servicemen set their homes and church afire so they would not fall into Japanese hands.
The Unangax were transported to Southeast Alaska and there crowded into "duration villages": abandoned canneries, a herring saltery, and gold mine camp-rotting facilities with no plumbing, electricity or toilets. The Unangax lacked warm winter clothes, and camp food was poor, the water tainted. Accustomed to living in a world without trees, one open to the expansive sky, they suddenly found themselves crowded under the dense, shadowed canopy of the Southeast rainforest. For two years they would remain in these dark places, struggling to survive. Illness of one form or another struck all the evacuees, but medical care was often nonexistent, and the authorities were dismissive of the their complaints. Pneumonia and tuberculosis took the very young and the old. Thirty-two died at the Funter Bay camp, seventeen at Killisnoo, twenty at Ward lake, five at Burnett Inlet. With the death of the elders so, too, passed their knowledge of traditional Unangax ways.