Purchase Alcatraz Tickets in Advance

Tickets for Alcatraz frequently sell out in advance, especially around holidays and weekends. Night tour tickets sell out even sooner, as much as a month or more in advance. Order your tickets up to 90 days in advance to avoid disappointment. More »
Family Junior Ranger Days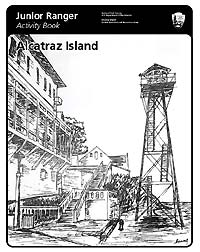 Two Junior Ranger Days are set aside each fall to highlight the Alcatraz Junior Ranger Program. The Junior Ranger days include special ranger walks and other youth specific activities. In addition, Junior Rangers may purchase a Junior Ranger Book for a nominal feel at the Alcatraz Book Stores. The booklet includes a variety of site specific activities. Those who complete the activities will be sworn in as Junior Rangers and receive a Junior Ranger Badge.
No more than 4 free tickets per family. Because there are other programs for both schools and after school programs, only youth in family groups are eligible.
Dates for 2013 are November 2 and 9. Please check back after September 5th for more details.
Did You Know?

Alcatraz Island is the site of a large colony of Western Gulls (Larus occidentalis), the gull species that inhabits the Oregon and California coast. Individuals mate for life and come together each year on Alcatraz to defend their historic territory and raise three chicks.