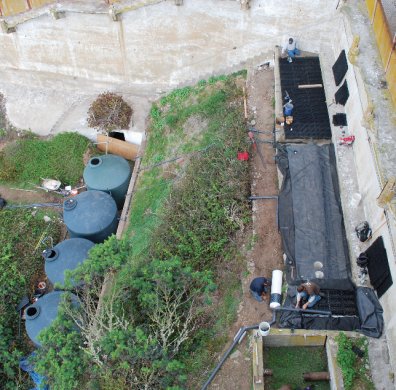 From the start of the Alcatraz Historic Gardens Project in 2003, the Garden Conservancy together with project partners the National Park Service and the Golden Gate National Parks Conservancy had the goal of a water catchment system to sustain the drought tolerant gardens.
Adapting the historic use of the grey water cisterns from the federal prison shower rooms, the system will capture 15 000 gallons of rainwater, matching the annual needs of the gardens.
A system was designed that is based on gravity. Water from the cell house roof drains to a downspout, that is then directed to the gray water cisterns. The water is filtered through a large filter to stop feathers and larger debris. A first flush diverter prevents the water with smaller particles from being collected. Next, the water is sent through a sand filter where beneficial bacteria neutralize any harmful bacteria.