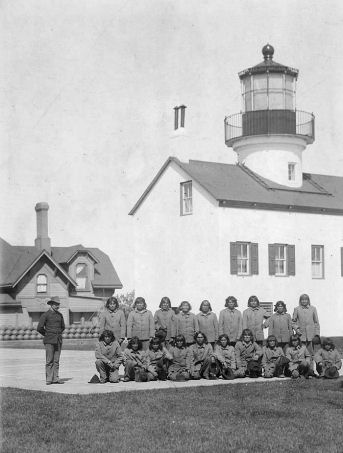 Photo from Mennonite Archives, Bethel College
American Indian Inmates of the U.S. Army on the Rock.
---
On January 4, 1895, the San Francisco Call published a story under the headline "A Batch of Apaches." The article stated, "Nineteen murderous-looking Apache Indians were landed at Alcatraz island yesterday morning." The article misidentified the 19 Hopi men who had been arrested at Orayvi the previous November. The article is filled with racial stereotypes of murderous and "crafty redskins" who refused to live according to the "civilized ways of the white men."
This part of our website is a joint project of the National Park Service, Golden Gate National Recreation Area, Alcatraz Island (California) and the Hopi Cultural Preservation Office, The Hopi Tribe (Arizona). These articles and photographs document an event connecting the history of Hopi and Alcatraz.
Hopi History: The Story of the Alcatraz Inmates is authored by historian Wendy Holliday, formerly with the Hopi Cultural Preservation Office. It was first published in Tutuveni on December 15, 1995. Her article traces the government's Indian policy and the effect it had on the people of Hopi in the late 19th century, culminating with the imprisonment of 19 Hopi men by the U.S. Army on Alcatraz Island in 1895. Read the entire article here.