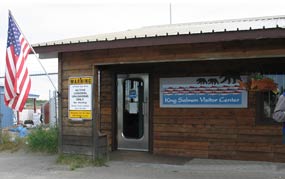 NPS Photo by Angela Glore
King Salmon Visitor Center
Located just next door to the King Salmon Airport, the King Salmon Visitor Center is open during the summer season from 8:00 a.m. until 5:00 p.m. daily. Visitors will find detailed information about the many Federal public lands on the Alaska Peninsula. Information about the Bristol Bay area and Southwest Alaska is also available.
Exhibits help visitors understand and appreciate the spectacular natural and cultural resources and rich history of the Alaska Peninsula. A three-dimensional map of Southwest Alaska, salmon life cycle illustrations, information on local wildlife, and the annual waterfowl calendar art contest entries are all on display. A large collection of films is available for viewing and the bookstore offers maps, navigation charts, videos, posters and more. For more information, contact:
King Salmon Visitor Center
P.O. Box 298
King Salmon, AK 99613
ph: (907) 246-4250
fax: (907) 246-8550
National Park Service
Katmai National Park & Preserve
Aniakchak National Monument & Preserve
Aleutian World War II National Historic Area
Lake Clark National Park & Preserve
U.S. Fish & Wildlife Service
Alaska Peninsula National Wildlife Refuge
Becharof National Wildlife Refuge
Kodiak Island National Wildlife Refuge
Alaska Department of Fish & Game
McNeil River State Game Sanctuary
Alaska State Boroughs
Bristol Bay Borough
Lake & Peninsula Borough