Things To Know Before You Come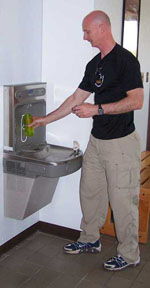 Agate Fossil Beds National Monument is located in a fairly remote area. No camping is permitted within park boundaries. A modern, covered picnic area with drinking fountains is located near the visitor center; and bottled water, juice, and soda pop are available from a vending machine inside. A water bottle filling station is available in the lobby.
If traveling from the south; Scottsbluff, Gering and Mitchell all have RV camping, restaurants and gas stations. The closest of these, Mitchell, is 34 miles south of Agate Fossil Beds.
If traveling from the north; primitive camping is available at Gilbert-Baker Park 5 miles north of Harrison or RV camping is available in Harrison at the city park where there are 2 "donatioan" hookups. There is a restaurant, a bar, a gas station open during the weekdays and Saturday morning, and a hotel bed and breakfast in Harrison which is 24 miles from Agate Fossil Beds. 20 miles east of Harrison on Hwy 20 is Fort Robinson State Park which has multiple camping areas. On east of Fort Robinson State Park on Hwy. 20 is Crawford, NE with gas stations, restaurants and motels. To the West of Harrison on Hwy 20 is Lusk, WY also with gas stations, restaurants and motels.


Did You Know?

Lakota families traveled 150 miles by team and wagon to visit the Agate Springs Ranch. This trip took almost a week and they needed to carry a pass to leave the reservation where they lived. Many long time residents remember seeing the visiting American Indian dancers at the Agate Springs Ranch. More...