Park phone lines intermittently out of service

If you cannot reach the park by phone, please click the Contact Us link on the left side of this page to email a ranger. Staff will call or email back during business hours.
Things To Know Before You Come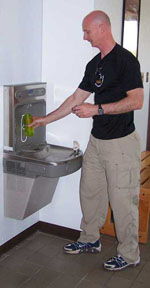 Agate Fossil Beds National Monument is located in a fairly remote area. No camping is permitted within park boundaries. A modern, covered picnic area with drinking fountains is located near the visitor center; and bottled water, juice, and soda pop are available from a vending machine inside. A water bottle filling station is available in the lobby.
If traveling from the south; Scottsbluff, Gering and Mitchell all have RV camping, restaurants and gas stations. The closest of these, Mitchell, is 34 miles south of Agate Fossil Beds.
If traveling from the north; primitive camping is available at Gilbert-Baker Park 5 miles north of Harrison or RV camping is available in Harrison at the city park where there are 2 "donatioan" hookups. There is a restaurant, a bar, a gas station open during the weekdays and Saturday morning, and a hotel bed and breakfast in Harrison which is 24 miles from Agate Fossil Beds. 20 miles east of Harrison on Hwy 20 is Fort Robinson State Park which has multiple camping areas. On east of Fort Robinson State Park on Hwy. 20 is Crawford, NE with gas stations, restaurants and motels. To the West of Harrison on Hwy 20 is Lusk, WY also with gas stations, restaurants and motels.


Did You Know?

Red Cloud, a chief of the Oglala Lakota Sioux, was one of the most photographed American Indians. More than 128 photos were taken of him during his lifetime. An oil painting of Red Cloud painted at the Agate Springs Ranch hangs in the "Den" exhibit in the James H. Cook Gallery. More...