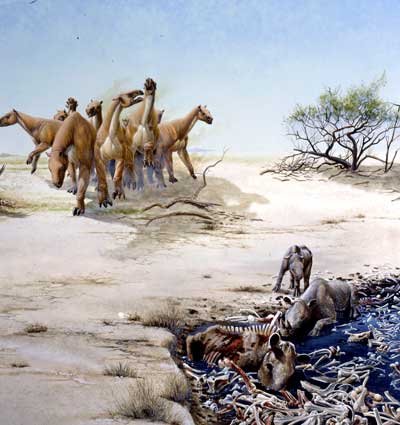 During the early Miocene Epoch, beginning about 25 million years ago, streams in the area that now includes Agate Fossil Beds National Monument shifted and cut down to produce valleys. These valleys were later filled in with sediments as the Great Plains continued to build up or aggrade. Aggradation resulted in the formation of wide savannas during the Miocene, those savannas being dotted with small water holes and the whole landscape populated with herds of animals (e.g., chalicotheres, rhinoceroses, entelodonts, beardogs, land beavers, camels, horses, pocket gophers). Ongoing research is documenting the grass species present on the ancient savanna. A major drought occurred in the Agate area during the Early Miocene. It is believed that when many of the drought-stricken and exhausted animals came to the remaining water holes in an effort to survive, the animals collapsed and died in and around the water. As the muddy water dried, the fossil beds were formed. Agate's older fossil layer is about 21 million years old and covered by a layer of ash, and its younger bed is 20 million years old. These layers are in what are now called the Harrison, Anderson Ranch, and Marsland Formations.

In the last five million years the High Plains have continued to uplift to their current elevation of about 4,400 feet a.m.s.l. and the savannas have changed to the grasslands of today. During the uplifting process rivers and streams have meandered across the plains and eroded the older deposits, forming the bluffs and valleys that we see today.

The modern Niobrara valley at Agate is a complex array of Late Pleistocene and Holocene geomorphology, stratigraphy, and paleosols reflecting significant climate variations over the past 12,000-15,000 years. Current research in the park is providing radiocarbon dates for the middle to late Holocene materials, documenting thousand year or less fluctuations between warm and cooler climates and varying amounts of annual moisture.

The agate that gives the park its name is found in a thin band along ash deposits just above the Miocene bone beds, and ranges in color from amber to light gray. This stone is a variety of quartz (silicon dioxide) called chalcedony. Iron, manganese, and/or aluminum inclusions in the original silica deposits give the agate different colors in various locations, and often form dendritic "moss" patterns in the material.

Text by Kimberly Howard, Biological Technician, Agate Fossil Beds National Monument, August 7, 2002.