Welcome to the African American Civil War Memorial, a unit of National Mall and Memorial Parks. The memorial is situated in the historic U Street neighborhood of Washington, D.C. a focal point of African American history and culture.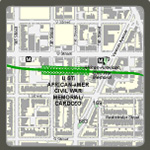 NPS
Directions
The memorial is located at the corner of Vermont Avenue, 10th St, and U Street NW, near the U Street/African-Amer Civil War Memorial/Cardozo Metro Station. Visit our Directions page to find your way here by public transit, bicycle or car.
The address is 1925 Vermont Avenue Northwest, Washington, DC 20001.
GPS Coordinates: 38.916554, -77.025977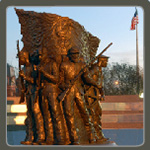 NPS
Hours and Seasons
The Memorial is outdoors and open 24 hours a day.
Please visit the Operating Hours and Seasons for more information on staffing and museum hour at the adjacent African American Civil War Museum.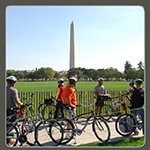 NPS Photo
Things To Do
The African American Civil War Memorial is a self-guided experience. However, use the links below to discover more about visiting the iconic monument and memorial protected by National Mall and Memorial Parks. But don't stop there!
Visit our Things to Do and Calendar of Events pages to discover a wide of array of activities from paddle boats and bike tours to nighttime walks with a park ranger.
Or visit Nearby Attractions!