Nearby Attractions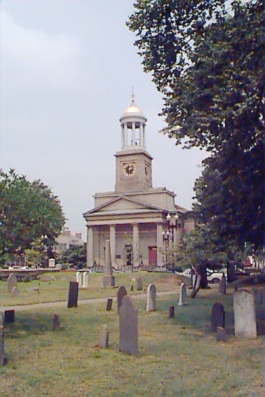 Visit the United First Parish Church
1306 Hancock Street
Quincy, MA

The United First Parish Church is an important part of the Adams story and is just a short walk away from the Visitor Center. Both Presidents and their First Ladies are buried inside of the chuch. Tours are offered daily between April 19th and November 10th on a walk up basis. Fees apply.
The Abigail Adams Birthplace
180 Norton Street
North Weymouth, MA 02191

The Abigail Adams Historical Society maintains Abigail's birthplace in tribute to this most distinguished American Woman. The Birthplace, located in Weymouth, Massachusetts, depicts early colonial life. The Society opens the birthplace to the public for tours each summer. Much work and restoration have gone into the preservation of this historic house so that it may be preserved and maintained as a memorial to Weymouth's most distinguished daughter, Abigail Smith Adams. Located in Weymouth, Massachusetts at the intersection of North and Norton Streets. A small admission fee is charged. (781) 335-4205
2015 Hours
March 21st, 1PM-4PM
April 19th, 1PM-4PM
May 17th, 1PM-4PM

Adams Academy /Quincy Historical Society
8 Adams Street
Quincy, MA 02169
(617) 773-1144

In his will, John Adams deeded 211 acres of land to the town of Quincy to be used to build a classical school when income from the property had been realized. John Adams established the Adams Temple and School Fund, to carry out his wishes. When the Adams Academy opened in 1871, it was known as one of the nation's finest preparatory schools for young men. Students came from all over the country and from other nations to attend. The school closed on April 22, 1907, since then, the money from the Fund has benifitted Quincy Public Schools and the Woodward School for Girls. In 1893, Charles Francis Adams Jr., John Adams' great-grandson, was instrumental in establishing the Quincy Historical Society, headquartered in the Academy since 1972 and home to the Quincy History Museum. The museum and gift shop are open to the public, a small admission fee is charged. Please call for hours.