Visitors and Volunteers Transmit John Adams to Posterity in Brilliant Color

Reflecting on his life in public service, John Adams wrote:
Mausoleums, statues, monuments will never be erected to me. I wish them not. Panegyrical romances will never be written, nor flattering orations spoken, to transmit me to posterity in brilliant colors. No, nor in true colors. All but the last I loathe.
-John Adams to Benjamin Rush, March 23, 1809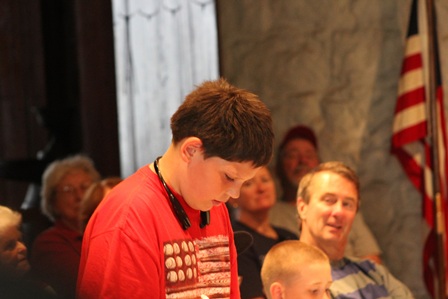 Some 968 visitors participated in the Adams National Historical Park July 4th celebration. Pen & Parchment, a lively re-enactment of the Continental Congress of 1776, where audience members assume the role of delegate, engage in a lively debate, and vote for Independence, was filled to capacity, with standing room only. Every seat was filled for the 2 hour performance of, Jefferson and Adams: A Stage Play, reaching some 250 people. The John Adams and John Quincy Adams Birthplaces served over 273 visitors for interpretive tours of the homes and 305 visitors toured the Old House.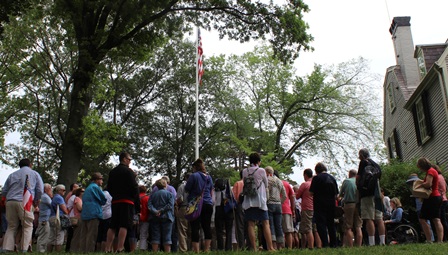 Imagine John Adams' reaction at seeing the 56 delegates of the 2015 Continental Congress of 1776, and spectators, standing below his Study window at the Old House at Peace field, for a ceremonial reading of the Declaration of Independence, 239 years later on July 4th!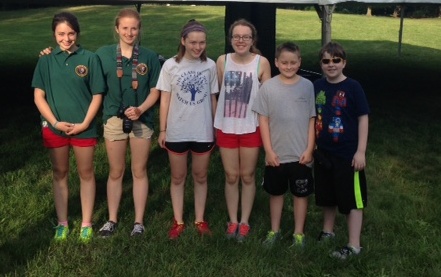 The days diverse programs, including a re-enactment, a reading of the Declaration of Independence, history shared through the performing arts, and interpretive tours; served to transmit John Adams to posterity in brilliant colors.

Branching Out Student Interns join Adams National Historical Park
Branching out student interns, Laxmi Spearing and Reika Hiroi, SHARE THEIR EXPERIENCE working at Adams National Historical Park during the summer 2015. Branching Out partners with National Parks and Historic Sites throughout the Boston area and New England. Park partners host either a Park-based Intern or the Field Team during the summer to learn about different landscapes and complete landscape maintenance projects. During the 10 week experience, the participating youth are introduced and exposed to various techniques and practices that are used to maintain the landscape at their park.

Click on the highlighted text for more information!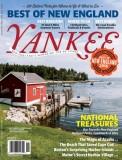 Yankee Magazine
Best of New England
National Treasures
Adams National Historical Park wins Editors' Choice - May/June 2015 - for Best Presidential Homes!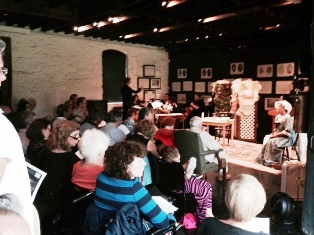 A Distant Love: Songs of John and Abigail Adams

Adams National Historical Park has embraced the performing arts, bringing history to life and engaging the audience in ways that elude the textbook and guided tour.On Saturday, June 21st the park celebrated Father's Day with a performance of, A Distant Love: Songs of John and Abigail Adams, presented by Chelsea Opera of New York.The presentation provided the opportunity for public engagement in a program that offers a unique venue in presenting history, culture, and the performing arts for the education and enjoyment of the community.The public is often aware of the Adams' contributions to the country's government and history, but unaware of the sacrifices they made in their service to country;or their early readings and education in literature and appreciation of the performing arts.
We went to the Opera, where the Scenery, dancing and Music afforded to my Curiosity a cheerful and sprightly entertainment, having never seen any Thing of the kind before.Our American Theatres had not then existed even in Contemplation.John Adams, 1778.
Inspired by the letters of John and Abigail, A Distant Love: Songs of John and Abigail Adams, brings together the best of history and the performing arts, and reveals a story that is as compelling and relevant today as it was over 200 years past.A common theme throughout their correspondence is sacrifice.
In the Dining room of the Old House at Peace field, hanging above the fireplace, is the last portrait that was painted of John Adams.His son John Quincy commissioned the portrait to be painted, to capture a likeness of his father, the elder statesman, in his later years.John Adams died 3 years later just shy of 91 years.The deep lines on his face are like a road map of his turbulent years in public life, each line symbolizing the many challenges he faced and overcame, and the sacrifices he made in some 27 years of public service.
During the revolutionary war years, from 1774 to 1784, John Adams was separated from his family for 10 years, with only two brief visits home.The legacy of those years is the birth of our nation.But, there is another legacy, the correspondence between John and Abigail Adams.
If Abigail was the Patriot on the Home front then John was the travelling patriot.Abigail experienced the revolution from their humble cottage at the foot of Penns Hill, which sat on the Old Coast Road, the super highway of the day, connecting Boston to Plymouth, MA.John's super highway led him to Philadelphia, the Netherlands, and France. The letters they wrote to each other during long periods of separation give us two unique perspectives on the revolution and offer a deeper understanding of their experiences.Putting their words to song,and performing inthe setting of John and Abigail's home at Peace field was a perfect marriage of art and history.
A Distant Love: Songs of John and Abigail Adams: music by Gary S. Fagin, Libretto by, Terry Quinn and co-produced by, Leonarda Priore and Lynne Hayden-Findlay.The performance was funded by a grant from the National Endowment for the Arts –Art Works Program, and by the Friends of Chelsea Opera.
C2A10: Arts Afire
C2A4: In My Backyard

Adams National Historical Park Joins National
Find Your Park Movement
National Park Week 2015
Quincy –Adams National Historical Park joins parks, programs and partners across the country to encourage everyone to find their park and share their stories online at FindYourPark.com. Launched by the National Park Service and the National Park Foundation, Find Your Park is a public awareness and education campaign celebrating the milestone centennial anniversary of the National Park Service in 2016 and setting the stage for its second century of service.
Find Your Park invites the public to see that a national park can be more than a place -- it can be a feeling, a state of mind, or a sense of American pride. Beyond vast landscapes, the campaign highlights historical, urban, and cultural parks, as well as the National Park Service programs that protect, preserve and share nature, culture, and history in communities nationwide.
"Find Your Park" is also the theme for this year's National Park Week, April 18 –26. On Sunday, April 19th join Adams National Historical Park as we "Open Your Park" for the 2015 season.Walk in the footsteps of Patriots, Presidents, Diplomats, Writers, and Historians as you tour the John Adams and John Quincy Adams Birthplaces and the "Old House at Peace field;" home to four generations of the distinguished Adams family.