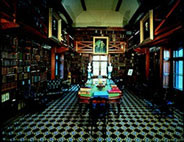 NPS Photo
I give and bequesth my library of books, my manuscript books and papers, and those of my father, and all of my family pictures...to my son, Charles Francis Adams, trusting that his mother shall at all times have the use of any of the books in the library at her discretions; and I recommend to my said son...to cause a building to be erected, made fire-proof, in which to keep the said library, books, documents, and manuscripts safe...and I especially recommend ...that he will, as far as may be in his power, keep them together as one library...
Will of John Quincy Adams, January 18, 1847

The
Stone Library
, is home to over 12,000 volumes, reflecting the literary tastes and interests of four generations of Adams men and women, beginning with John Adams in 1768. Today, about 10% of the books belonged to the second U.S. President, John Adams. the greater part of the remainder belonged to his son, sixth U.S. President, John Quincy Adams. In his will, John Quincy Adams requested that a fireproof structure be constructed separate from the house for the proper use of his books, papers and maps. In 1870, his son, Charles Francis Adams succeeded in fulfilling his father's wishes with the construction of the medieval style Stone Library. His sons and grandsons all used the library for writing. Charles Francis Adams worked on the ten volume, Diary of John Adams, the twelve volume, The Memoirs of John Quincy Adams, and The Letters of Abigail Adams. His son, Henry Adams worked on his, History of the United States, writing to friend John Hay, I write history as though it were serious, five hours a day; and when my hand and head get tired, I step out in the rose-beds and watch my favorite roses...

The John Adams Library at the Boston Public Library
John Adams had a life long passion for books and spent a lifetime collecting some 3,000 volumes. With the exception of Abigail's fictional works
and a few that I shall reserve for my consolation in the few days that remain to me
, he deeded his library, for public good, to the City of Quincy. After 75 years, and six different locations within Quincy, the library was transferred to the Boston Public Library in 1894, where it remains to this day in the
Rare Book Collection
.