Partial Park Closure

On Saturday, October 18, the Old House at Peace field will be closed for tours at 3:00 PM. The last full park tour leaving the Visitor Center is at 1:15 PM. The Birthplaces and the Visitor Center will remain open until 5:00 PM.
Louisa Catherine Adams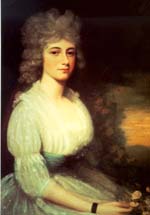 Louisa Catherine Adams 1775-1852
Louisa Catherine Adams is often times omitted or forgotten in books of first ladies or notable American Women. Nevertheless, she made immense contributions to her nation and played a vital role in supporting her husband's, John Quincy Adams', career. Louisa's relative obscurity may be due to the fact that although she disliked the restrictions that society placed upon her as a woman, she conformed to them and concentrated on being a loyal wife and devoted mother. While some today may disagree with such priorities, it would be wrong to interpret Louisa's choices as evidence of her weakness, because Post-Revolutionary War America expected wives to subordinate their wishes to their husbands desires. Although Louisa did not openly challenge these standards, she frequently showed her abilities. When John Quincy Adams was weakened by the conflicts and hardships in his life it was often his wife who brought strength, courage and compassion to the family. Only through a thorough examination of this woman's life can we uncover the important place in history that Louisa Catherine Adams truly deserves.
Did You Know?

John Quincy Adams kept a pet Alligator in the White House while he was president.