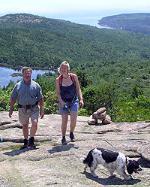 NPS
Guidelines
Emergency phone: 911
Be prepared. While hiking remember to bring:
Water; at least 20 oz (.6 L)
Map
Adequate clothing (rain jacket and warm layers)
First aid kit
Flashlight
General Guidelines:
Be careful while walking near cliff ledges.
Tell someone your plans.
Remain in one place if you become separated from your group.
Check for ticks. Wear long pants and use insect repellent.
Poison ivy is found throughout Acadia. Learn to identify and avoid it.
Drive safely and wear your seatbelt at all times.
Do not drink and drive.
When in doubt, ask a ranger first!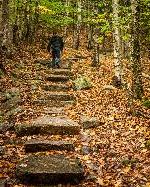 NPS/Greta Rybus
Ticks
Ticks are prevalent in Acadia. Mostly active late spring to early fall, these pesky biters can transmit Lyme disease and other illnesses. To protect yourself:
avoid brushy areas and dense leafy areas where ticks are abundant,
wear long pants and sleeves,
check your skin and clothes frequently for ticks,
use an appropriate insect repellent containing DEET,
shower soon after being outdoors.
For more information visit the Centers for Disease Control and Prevention's Ticks page.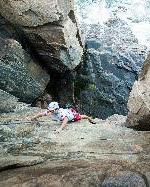 NPS/Kent Miller
Climbing Safety
Climbers assume responsibility for personal safety.
On some routes local climbers maintain fixed protection or rappel stations. As always, evaluate them before using.
At Otter Cliff, the park maintains fixed anchors on top that must be used instead of trees to belay several climbs. Evaluate these anchors as well, and notify the park immediately of safety concerns.
Climbers at Great Head and Otter Cliff should know tides and weather forecasts; climbing at these areas is more difficult and dangerous at high tide or in heavy seas.
Climb within your limits.

NPS/Kristi Rugg
Trail Safety
Carry water; at least 20 oz (.6 L) and more on warm days
Wear sturdy hiking shoes and dress for variable weather
Follow blue trail blazes and use a map
Do not modify or build new cairns. Changes to trail markers may endanger other hikers
Know the difficulty level of the trail and your physical abilities and limitations.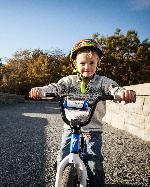 NPS/Greta Rybus
Carriage Road Safety

You may encounter heavy machinery and trucks used for carriage road maintenance. Please be careful.
Bicyclists yield to all users. Everyone yields to horses, which can be startled by sudden movements.
Slow down! Speeding can be hazardous.
Be prepared to stop. Sudden stops are dangerous on loose gravel.
Stay to the right. Give a clear warning before passing on the left.
Move to the side when stopped.
Wear a helmet and carry water; at least 20 oz (.6 L) and more on warm days.
Leave no trace. Carry out what you carry in.
Snowmobiles may travel on the carriage road on the east side of Eagle Lake. Please use caution..