Trail Closures: Peregrine Falcon Nesting

Precipice Cliff, Valley Cove, and Jordan Cliff areas are closed to all public entry until further notice for peregrine falcon nesting season. More »
Cultural Connections programs rescheduled for 7/16/2014 due to weather

Ash Log Pounding demo will take place today 11 am-3 pm at the Abbe Museum downtown (26 Mount Desert St, Bar Harbor). The Burnurwurbskek Singers have been rescheduled to perform on Cadillac Summit next Wed, July 23 at 11 am.
Leaf Peeping

Fall Colors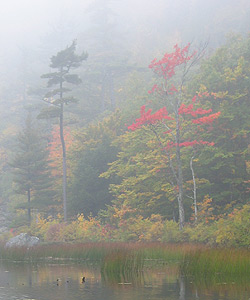 NPS/Ginny Reams
Each fall, thousands of people come to Acadia National Park to see the explosion of color in the park's forests. The biggest question we hear in the fall is "When is the best time to see fall colors?" The peak generally comes in mid-October. To see the status of fall colors throughout Maine, visit the state's fall foliage website. The site is updated every Wednesday during the foliage season.
To get an idea of some of the fall views you might see in the park, view the seasons photo gallery.
Did You Know?

The Civilian Conservation Corps performed important work in Acadia National Park, including clearing brush, setting stones, and constructing Seawall Campground. Today park headquarters is located in the former CCC camp.