Park Loop Road opening

May 17, 2013: The entire Park Loop Road and all other paved roads in the park open today. All dirt roads in the park, including the Seal Cove Road, will open on June 3.
Trail closures

April 22, 2013: The Precipice, Orange and Black, Valley Cove, and Jordan Cliffs Trails are closed until further notice because of nesting peregrine falcons. All other trails in the park are open, whether accessible from the park or from state roads.
Hulls Cove Visitor Center

May 17, 2013: The visitor center will open on May 19 and will be open 9-5 every day. All park passes are available there. There is an accessible entrance at the back of the building for those who have trouble climbing stairs.
Schedule Of Events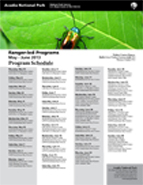 May and June Programs
To download the Ranger-led Programs list, click here.

Winter in Acadia
It might be the off season but there is still lots to do in Acadia, to download
winter activities and information click here.



Did You Know?

Acadia National Park's carriage road system, built by John D. Rockefeller Jr., has been called "the finest example of broken stone roads designed for horse-drawn vehicles still extant in America." Today, you can hike or bike 45 miles of these scenic carriage roads in the park.