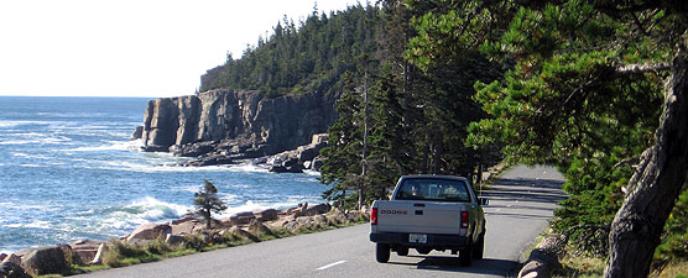 NPS/Ginny Reams

Park Loop Road

The scenic 27-mile (43 km) scenic loop begins at Hulls Cove Visitor Center and offers access to Sand Beach, Thunder Hole, Otter Cliffs, Jordan Pond, and Cadillac Mountain. Most of Park Loop Road closes for the winter (December - April 15). For more information, visit Road Closures.
To download a map, click here.
Bridge clearances:
Stanley Brook Entrance: 10 feet 4 inches (3.1 m)
Sieur de Monts: 12 feet 2 inches (3.7 m)
Fabbri Picnic Area: 11 feet 6 inches (3.5 m)
Blackwoods Campground: 11 feet 8 inches (3.5 m)
Wildwood Stables: 13 feet (3.9 m)
Park entrance fees are collected at the entrance station one mile (1.6 km) north of Sand Beach on Park Loop Road. Entrance fees are required to enter any portion of the park.
Federal law requires you to wear seat belts while driving in a national park.
Please obey all speed limits. Unless otherwise indicated, the maximum speed limit in the park is 35 mph (56 km/h).
State and country roads may offer scenic views. The loop road located on the Schoodic Peninsula offers views of the rugged coast.