Education Intern Blog - Spring 2012
Read below for the adventures of Acadia's Spring 2012 Education Interns, Josh Hirsch and Matt Kessler.
---
May 24, 2012 This week was another great one here in Maine! On Monday we observed the Shoreline Discovery program. The kids were from various home schools in Vermont and ranged from ages 5 to 18. While there certainly was a wide range of ages, all of the kids seemed to have a good time. Even though we got to the tide pools at exactly high-tide, we still found many animals including crabs, barnacles, and dogwinkles. On Tuesday we taught 3rd graders about what park rangers do and why they are important. While we were exploring the outdoors with some of the 3rd graders, we found a baby salamander! All of the kids were very excited to see it, and it cooperated while all of the kids observed it. Wednesday was a slightly irregular day. While most of our programs are geared for 3rd graders through 8th graders, we did a program for kindergarteners through 2nd graders on Wednesday. We set up various stations at Sand Beach and explained why Sand Beach is such a special and unique place in Acadia National Park.
Matt also went on a snorkeling expedition this week. He saw many sand dollars, sea stars, sea urchins, a few jellies, and a large flounder. While Matt was snorkeling, Josh climbed Beech Mountain. He went up the Valley Trail and then up the mountain. There was an old fire tower at the top of the mountain, and the Valley Trail was one of Josh's favorite trails in Acadia.
-Josh Hirsch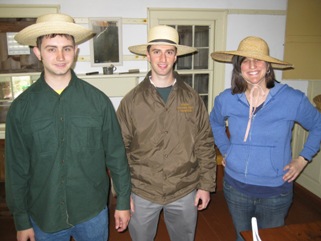 NPS/Michael Marion
May 15, 2012 Josh and I spent a lot of time with Junior Ranger Days, observing one on Tuesday and conducting two each later in the week. We also went into the classrooms a few times for the What Do Rangers Do? program. Over the past few weeks we have been learning a lot about working with kids, the culture and history of Acadia National Park, and more broadly, how the Park Service runs. It has been moving quickly, and we cannot believe we have already been here for over a month! We also went fishing the other day, but our efforts again proved to be fruitless. We have still told ourselves that we will not leave Maine before we catch a fish and have remained confident despite our previous attempts. On Saturday we went to the Goodwill store in Ellsworth to find suspenders and other items for our 1825 Carroll Homestead costumes. On Sunday we hiked up Dorr and Cadillac mountains, and really liked the South Ridge of Cadillac.
-Matt Kessler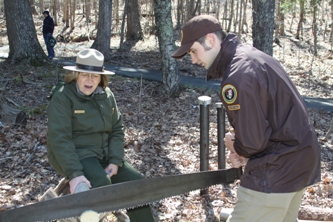 NPS/Michael Marion
April 23, 2012 Even though there was a lot of rain this week in Bar Harbor, we managed to get outside and have a good time. The week started with more training about various lessons that we will be teaching throughout this internship. We then attended National Junior Ranger Day at S.E.R.C (Schoodic Education and Research Center). S.E.R.C is located on a peninsula about an hour away from Bar Harbor. We were in charge of running some of the outdoor stations including one about fire safety and one about how to use a rescue throw-rope. There were about 50 kids there, and they all seemed to be having a great time.
The day before National Junior Ranger Day we went fishing in Somes Sound. Even though our efforts were unsuccessful, we had a great time and have set a goal to catch at least one fish sometime this spring. We also went to the granite museum located on M.D.I. It was a very interesting museum that contained many old tools that they used to cut granite. We learned a lot of about how granite is quarried and refined. We also took advantage of the weekend's storm by going down to Thunder Hole and Otter Cliffs to watch the incredible waves. We had never seen waves that big. It just goes to show you that there is always something to do in Acadia, even if it its pouring rain.
-Josh Hirsch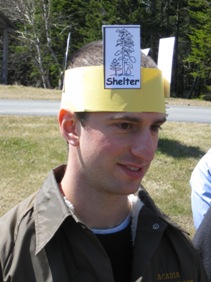 NPS/Michael Marion
April 16, 2012 During the first week of their internship, Josh and Matt were given training in the fundamentals of what they will be expected to do during the spring education program in their supporting role as education interns. The training to date has included a tour of the West, or "quiet" side of the island, a refresher in the Leave No Trace principles and how they are to be applied in the park in particular. They have been trained in the Carroll Homestead, which they helped to set up for the spring program from the way it was packed for the winter off season. Josh and Matt were introduced to the Department of the Interior bureaucracy with the paperwork that was required for them to get the keys to the government car that they use to get to and from work, to get the keys to their apartment, and to get access to the gasoline to put into the car. They were trained on-location in giving tidal pool talks and tours of mud flats, and attended a workshop on the Growing Up Wild program that is implemented in elementary classrooms. In their free time, they have been exploring the park by foot and by bicycle, and have reached the summit of Cadillac, North Bubble, and Pemetic mountains.
-Josh Hirsch and Matt Kessler