Education Intern Blog - Spring 2011
Read below for the adventures of Acadia's Spring 2011 Education Intern, Joanne Kellner.
---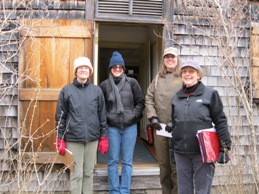 NPS/Michael Marion
June 3, 2011. Today is my last day as an Education Intern at Acadia National Park. It's hard to believe. Already I can hear the proverbial brakes screeching as everything grinds to a halt. We have our last program this morning (with first graders), and then that's, well, it. I'm sad to be leaving, since I love Acadia and I will miss the new friends that I have made here. At least I'll only be a two-hour's drive away at my next internship, so I can come back and visit! And I'm looking forward to returning in September to work with the sixth-grade residential program at Schoodic. When I spoke with Ranger Kate, who leads the Schoodic program, I got an excellent impression, and I think I will really enjoy working with her.
So, how to wrap up this internship? Well, all I can say is that, regardless of how tired I was in the evenings when I got home from work, I really enjoyed the kids and the programs we presented to them. The kids were, for the most part, enthusiastic and interested in the material we were teaching them. It was sometimes a challenge to keep them focused, but hey, they're kids! Wandering minds are a part of being young, and it's just something that one has to deal with and take in stride. All of the kids I met seemed to be good kids; it was simply that some were more focused than others.
As I pack up my stuff and get ready to leave, one of the things I will pack up and take with me is my memories. There was the kid who listed me on a scavenger hunt as something that was older than he was. There was the kid who said that his mom was 186 years old. There were the smiles and excited squeals of the new Junior Rangers. There were the creative, theatrical presentations at the end of our "Where in the World is Tuzigoot?" programs. The two most memorable ones were these: there was a bear with a halo that turned into devil horns when a visitor got to close, and the angel-turned-devil bear attacked the visitor! And there was a young sailor who was stranded on an island at sea, who was rescued after his wife and the sailor's best friend spent many months at sea searching for him.
I have always known that Acadia was beautiful. Now that I have worked here, the park will always occupy a special place in my heart. As sad as I am to be leaving, at least I know that I will return.
-Joanne Kellner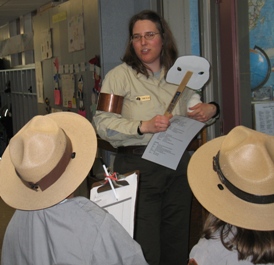 NPS/Cynthia Ocel
May 27, 2011. Wow! The last two weeks have been so busy I haven't even had time to think about writing blog entries. I've had at least one program - often two or three - every day I've been scheduled to work. Any work time not spent doing programs was spent either driving to and from programs (some of the schools we traveled to were up to an hour's drive away) or preparing for programs.
At this point we have finished all our classroom programs, so the kids come to learn in our "outdoor classrooms" right here in Acadia National Park. My favorite on-site program is Junior Ranger Day, which is the sequel to the classroom program "What Do Rangers Do?" When the kids come to the park, they get to try out being each of the six types of rangers that they learned about in the classroom. As interpreters, the kids learn information about something found in the park and present it to their classmates. As resource management rangers, they do a short resource inventory. Okay, so it's a scavenger hunt… but they have fun pretending to be scientists! And as maintenance rangers they either do leaf raking or trash pickup.
One thing I have learned is that third-graders love to rake leaves! I find this amusing, since so many of the adults I know complain bitterly every fall when they have to go out and rake their driveways. Of course, you may ask, did I like raking when I was in third grade? I honestly don't remember. But do I like raking my driveway as an adult? I have to admit, not really!
As I sit here writing this, I realize that I have only one week left as an Education Intern at Acadia. Whoosh! The time has flown by. It's like I blinked and it's gone! Our last program is a week from today, and then the kids get out of school for the summer. Will some of them come back with their families during their vacations? Probably, but I won't know, since I'll be off doing another internship in another park. All I can do is hope that I made some sort of a difference in the lives of the kids I met while I was here.
-Joanne Kellner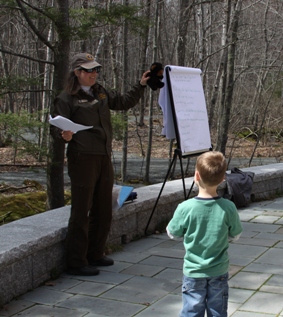 NPS/Diane Hunt
May 10, 2011. As of April 4th, I am Acadia's 2011 Education Intern. I graduated recently from Unity College in Maine, majoring in Parks, Recreation and Ecotourism, with a minor in Natural and Cultural Heritage Interpretation. In plain English, that means that I'm trained to be a park ranger - which is good, because that's what I want to be!
My job as Education Intern revolves around the park's curriculum-based outreach program. With the rest of the Education staff - Ranger Donna, Ranger Michael, Ranger Lisa, and Ranger Cynthia - I do a variety of fun programs with third- through eighth-graders. Sometimes we travel to the local schools and do programs in the classroom. Other times, the kids come to us.
My favorite classroom program so far is the third-grade program, "What Do Rangers Do?" This program prepares the kids to become official Junior Rangers by teaching them about the six different kinds of ranger jobs. Because of my background in theater, I love directing the kids in the skits they put on to teach their classmates about the different kinds of rangers. Most of the kids are enthusiastic, but there's always one who's too shy to want to say anything. And then there's the wise guy… and this one always provides a lesson in expecting the unexpected!
When the kids come to the park, we all fervently hope for sun. So far the sun hasn't been particularly obliging, but the kids have had great fun anyway. A few days ago we had a third-grade class here for their special Junior Ranger Day, where they help out each of the six kinds of rangers on their way to becoming official Acadia National Park Junior Rangers. About halfway through it started to rain and we all got nice and soaked, but no one complained. By the end of the program, we had ten new enthusiastic Junior Rangers.
Yesterday we had our first on-site fifth-grade program, "Carroll Homestead." The kids came out to the Carroll Homestead, which is this really cool old house built by a subsistence-farming family, the Carrolls, back in 1825. Several of the kids came dressed in period costume, which helped them on their journey back in time to 1870. As we traveled backward from 2011, fifty years at a time, the kids learned - sometimes with astonishment - that all the modern technologies they take for granted, like TV, cell phones, the Internet, and cars, haven't always existed. If the subject had come up (it didn't), some of the kids might have been surprised that even I, younger than their parents or chaperones, remember a time when cell phones and the Internet didn't exist. On their trip, the kids got to explore the homestead and try out nineteenth-century toys, including these really cool-looking stilts and Graces, a game of catch played with a hoop and a couple of sticks.
As an intern, I also get to help out with special events. April 31st was National Junior Ranger Day, a family program where kids can come with their parents, do some fun activities, and become Junior Rangers. The kids got to participate in Ranger Lisa's popular Animal Olympics, try out an atlatl (a Native American hunting weapon), and walk, trot, or hop in animals' paw prints, among other things. I was the Rocking Ranger, leading the kids on a "Bear Hike" and teaching them dancey little songs about animals. ("Did you ever see a fishy swim this way and that?")
My show took place three times throughout the afternoon. Interspersed with my show was an appearance by Smokey Bear, which took place twice. Smokey was supposed to lead the kids in the "Smokey Pokey," but it turned out that neither the guy playing Smokey nor his "handler" (I won't embarrass them by identifying them by name) knew the original Hokey Pokey. No one had a recording of the song either, so I ended up belting the tune at the top of my lungs while leading the dance. It was fun, but if you think singing and dancing at the same time is easy… Try it!
So… as I'm sure you can tell, I'm having a lot of fun in this internship! I hope all the things I'm learning here will look great on my resume so I can realize my dream of being a permanent Interpretation Ranger in the National Park Service.
Thanks for reading and have a great day,
-Joanne Kellner