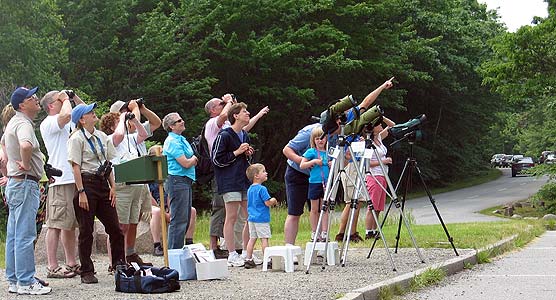 NPS/Sheridan Steele
Please note that the end date of Peregrine Watch varies each year. Please contact us for more information. To protect nesting peregrines, annual trail closures are in place during the time chicks are present in the nest.
---
June 2012 Since 1991, a Peregrine Falcon pair has successfully nested (raising 1-4 chicks) at the Precipice and a few additional sites across Acadia National Park almost every year. The first 19 years of nesting in Acadia followed a textbook standard of mating, nesting, hatching, and fledging behaviors that were observed in several different pairs. However, the last couple of years have produced new chapters that include changing behaviors and uncertain outcomes. Unfortunately, last year all pairs that attempted to nest on Mount Desert Island failed to produce young. Park staff are excited that this year a pair of falcons at Beech Cliffs, near Echo Lake, has three chicks that can be seen from Echo Lake Beach. Although a pair of Peregrines is trying to nest at the Precipice and Valley Cove, there are still questions about whether those are successful nests. Therefore, park staff are still monitoring the sites and trail closures are still in effect. You can track Acadia's peregrine falcon adventures by reading the weekly update, View from the Aerie. If you visit Acadia, be sure to check at an information center to see where the Peregrine Watch is occurring, as the site may vary dependent on nesting success. Ranger staff and volunteers are at the site daily, weather permitting, nine to noon, starting mid-May. Use viewing scopes to check out activity on the cliff, learn about field-identifying marks and behavior, and hear how you can promote the conservation of peregrine falcons. Join us to experience the excitement and wonder of the world's fastest bird.
For more info about the 2012 nesting season, check out the weekly update.