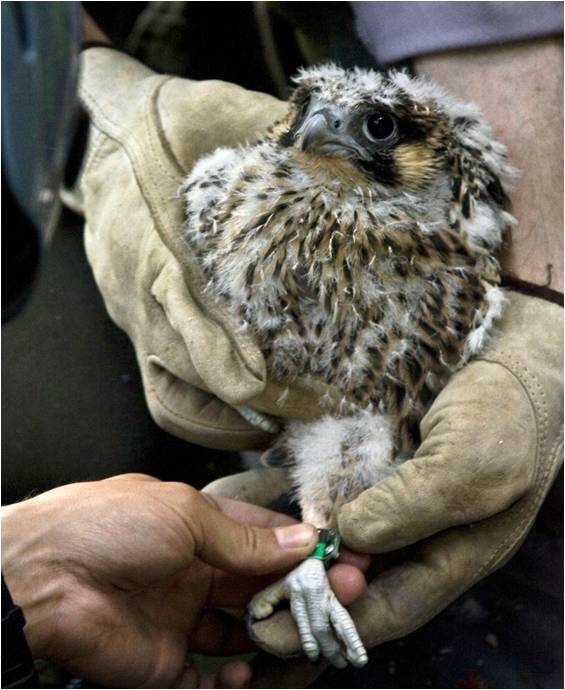 July 3, 2012: Great news from the Acadia Raptor Program! Three Peregrine Falcon chicks were banded at Beech Cliffs in June. The two females and one male appeared vivacious and healthy in the nest site. The largest female easily outsized her two siblings, suggesting she hatched before the other chicks.
The entire banding process only took about an hour to complete, reducing the stress on the falcons. In order to get to the chicks in the old raven's nest, two climbers from the Atlantic Climbing School rappelled down part of the face of Beech Cliffs to the nest. Then, the chicks were individually placed into a canvas bag and lowered to Acadia National Park biologists. Staff worked quickly to place two metal bands on each chick. The first silver-colored band has a US Fish and Wildlife Service identification number unique to each individual. This band is used in a large database to track information about birds banded across the United States. Think of it as a bird Social Security card! The second band is green and black from the Maine Dept. of Inland Fisheries and Wildlife. This band has a large number and letter which can be seen with a telescope, which helps biologists identify the bird at a distance.
Despite attempts to band all Peregrine chicks hatched in Acadia, only about a third have been
banded. Timing is key. The chicks' legs must be adult size, but they're not old enough to
move around the nest ledge. Otherwise, the sight of a human in the nest could cause a Peregrine
chick to hop off the cliff ledge with devastating consequences. Climbers, bird-banders, and
biologists must coordinate during a short period when the chicks are approximately
three to four weeks old, and then the weather has to cooperate as well. Banding is key to
determining where these Peregrines wander for winters and for nesting. Banded chicks from
Acadia have been found in Boston, Massachusetts; upstate New Hampshire and Vermont;
New Brunswick, Canada; Washington, D.C.,; and Cuba. The best opportunity to discover
future information about these birds is to band them when they are young.


Meanwhile, back at the Precipice, the nesting attempts with the pair of falcons there has failed. After multiple weeks of observations from the Peregrine Watch and early season monitoring, no chicks have been detected and all nesting behavior has been abandoned. Therefore, the Precipice trail and cliff face has been re-opened for recreational activities.
With the excitement of peregrine chicks at Beech Cliffs, the Peregrine Watch is currently at Echo Lake Beach off Route 102, north of Southwest Harbor. Come visit us from 9am - 12pm for great views of our Peregrine chicks as they learn to fly! Excitement ensues, so we hope to see you there.
--Matt Wyatt
June 4, 2012: Hello, everyone! My name is Matt Wyatt, the new Raptor Interpretation Intern for the 2012 summer season in Acadia National Park. With the help of Acadia's Raptor Ranger, Angi King Johnston, I'll be keeping you updated on what is happening with peregrine falcons in our great national park.
I have been captivated by birds of prey and nature since I was very young. I read stories such as My Side of the Mountain in junior high and kayaked the bayous and swamps of Louisiana throughout high school. In college at Louisiana State University, I continued to feed my interest by volunteering at the LSU Raptor Rehabilitation Center. There, I cared for hawks, owls, and kites that came through the center, and learned falconry with a local master-falconer, Matthew Mullenix, and his trusty companion, Ernie the Harris's Hawk. These experiences represent the start of a life-long intrigue in birds, mammals, and reptiles of our planet, especially those that rule the skies. As a graduating senior in ecology at LSU, I realize this fascination can be a life-long profession by researching how to better understand and protect these powerful raptors and connecting others to the importance of these awe-inspiring species in our ecosystems. Now, as this year's Raptor Intern, I'm ecstatic to have the opportunity to begin my career in ornithology, conservation, and interpretation with Acadia's Raptor Program!
Getting back to the birds, the first couple of weeks at Acadia have been anything but boring. I have observed the Peregrines attacking passing turkey vultures and bald eagles and catching prey, such as an unfortunate flycatcher that flew too close to the cliff outside of cover. During times when the raptors weren't active, our resourceful volunteers showed me the common perches of the peregrines on Champlain Mountain. Locating these perches is quite the feat for a bird that sits only as tall as a crow and camouflages itself very well to the rock.
When I wasn't at the Precipice, I spent time watching the peregrine chicks at Beech Cliffs-truly an amazing experience! The adult female was often seen bringing food to the begging chicks at the old raven's nest. A clear 'pecking order' was visible from the largest, oldest chick to the youngest, smallest falcon. Visitors passing by the popular beach were rewarded with a great chance to see the chicks-an event that may occur more often if the Precipice nesting pair fails and Peregrine Watch is relocated to observe the Beech Cliffs pair.
Contrary to what it may appear, this internship isn't only 'for the birds.' Discovering how to facilitate people's connection and interest in the raptors is a part of the experience, too. Shadowing Angi King Johnston and observing her engage audiences of all ages with different techniques, including props, pictures, well-practiced stories, and views of the falcons, has been insightful to the field of interpretation. I witnessed many 'Oooh!' moments from children and adults alike as they learned about the falcon's great speed, looked at various talon and skull models, and even got a chance to study the falcons in the scopes. But, no worries--Memorial Day weekend ensured plenty of practice for me with over 250 visitors on Sunday during our Peregrine Watch Program!
Until next week, look forward to a post with news and photos of the peregrine chicks at Beech Cliffs. In the meantime, please remember that the Precipice trail remains closed until further notice. Come out and visit us at the Peregrine Watch at Echo Lake Beach 9am to 12pm (weather permitting). Looking forward to a great season at Acadia National Park and seeing you out there!
--Matt Wyatt
May 31, 2012: Welcome to another exciting year of peregrine falcons nesting in Acadia National Park! The Peregrine Watch at the Precipice is once again monitoring the falcons' behavior and connecting visitors to the successful recovery of this bird of prey in the park and across the nation. The View from the Aerie is an update on the latest behaviors of peregrines across Acadia National Park.
Since 1991, a peregrine falcon pair has successfully nested (raising 1-4 chicks) at the Precipice almost every year. The first 19 years of nesting in Acadia created a type of textbook standard of mating, nesting, hatching, and fledging behaviors observed in several different pairs. However, the last couple of years have produced new chapters of changing behaviors and uncertain outcomes. This change has created new questions whose answers are not yet known. Park rangers, volunteers, and visitors are left to continue monitoring, observing, and documenting the what, when, and where behaviors. Then all wait to see how this year's pages of Acadia's peregrine falcon story will be written.
So far this season, turmoil at the Precipice appears to continue after last year's failed attempt to have young. Erratic behavior, changing of possible nesting ledges, and even possible changes in breeding adults during this nesting season riddles the question of nesting success. Currently, a pair of peregrines is trying to establish a nest, spending time on the Precipice and protecting "their" cliff from bald eagles,turkey vultures and other potential threats. As success is yet to be determined, the Peregrine Watch continues at the Precipice. Every behavior and action that occurs becomes important to watch and document, to see what happens next. The Precipice Trail, climbing area, and the Orange and Black Path will stay closed as nesting activity continues.
On the other side of the island, a different story is being written. A peregrine pair was active in March at the Valley Cove site, just north of Southwest Harbor, on Somes Sound. However, less activity was observed in the beginning of April. Meanwhile peregrine activity picked up at the nearby Beech Cliffs, off Echo Lake, at this time, where no activity had been previously observed this season. These two nest sites are only about a half-mile apart, and it's possible that the old raven's nest on Beech Cliffs was the chosen site for this same pair trying to nest at Valley Cove. Excitedly, about 6 weeks of incubation later, there are currently three chicks at Beech Cliffs. This nest is easily seen from the Echo Lake swim beach, where you can watch and hear much of their activity. The nest is in such a place that hikers on the Beech Cliff trail do not affect the birds; therefore the trail remains open. Valley Cove is still under observance for nesting activity and the trail continues to be closed.
Jordan Cliffs, another traditional nesting site in years past, appears to be inactive. However a single, non-territorial adult has been reported in the area. Hopefully this may be preparation for next season. All trails in this area are open.
The daily Peregrine Watch at the Precipice began in late May. Weather permitting, park staff are perched at the Precipice parking lot from 9am to 12 pm to view these important raptors. All information is important in determining nesting success, so the more eyes to keep watch, the better. Come visit, and be a citizen scientist to observe and help rangers determine this year's new chapters to the Precipice nesting site. Hope to see you there!
--Angi King Johnston