Field Guide to Marine Invertebrates - Other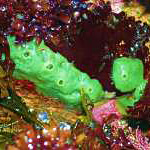 Halichondria panicea
(sponge)
Halichondria panicea
("crumb-of-bread sponge") is green due to symbiotic green algae called zoochlorellae that live within the sponge. When the zoochlorellae are absent, the sea sponge is
orange
. This sponge is a filter feeder found in subtidal and lower intertidal zones.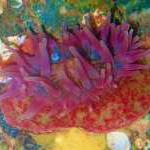 Urticina felina (cnidarian)
Urticina felina ("northern red anemone") is sessile (permanently attached to the substrate). This sea anemone uses its tentacles to gather nearby food particles. It is common in the subtidal zone, but can be found in cracks and tidepools in the lower intertidal zone of rocky shores.