BioBlitz Series - Moth and Butterfly (Lepidoptera) Blitz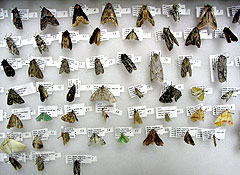 NPS Photo
From June 12 to 14, 2004, the National Park Service, Maine Entomology Society, and Maine Forest Service hosted 35 professional and amateur entomologists, who volunteered 1,492 hours to conduct the first-ever moth and butterfly blitz in the Schoodic District of Acadia National Park. Participants recorded 18 butterfly and 140 moth species. A number of these moth species were new Maine records. Given the interest and success of this blitz, park staff and the Maine Entomology Society are hoping to conduct future annual collecting efforts for Lepidoptera and/or other invertebrate species in the park.
For a first-hand account of the Lepidoptera Blitz, you can read an article by Dr. Brian Scholtens of the College of Charleston (South Carolina) in the winter 2004-2005 Friends of Acadia Journal (pdf).
12 Photos

To get a feel for how a BioBlitz works, check out these images from the 2004 Lepidoptera (Moth and Butterfly) Blitz.