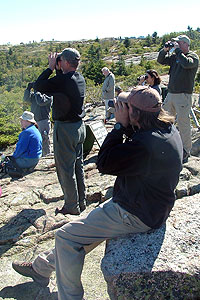 Every year, strong northerly winds push thousands of raptors from Maine and Canada south along the eastern coastline as they migrate to warmer areas for the winter. With its wide-open views and tallest vantage point on the eastern U.S. coast, Acadia's Hawk Watch location on Cadillac Mountain often provides visitors with a close look at the soaring raptors. Each year, program participants see large numbers of sharp-shinned hawks and American kestrels, while many other raptors pass along with them.
The 2010 Hawk Watch season was another great year! From August 22 through October 12, park rangers, volunteers, and visitors spotted, identified, and counted 3,179 birds for the season, the fourth highest season! Over the past 16 years (1995-2010), the average number of raptors seen per year is 2,579.
This year, bird sightings seemed more like a roller coaster, with high peaks on September 11 (449 birds), September 20 (377), and October 3 (210) and a low number of eight birds over a six day stretch at the end of September. With such a great total this year, all raptor species were either at or above average yearly sightings this year, a great triumph for many raptors that almost disappeared forty years ago!
Numbers fluctuate each year depending on whether the birds fly near the site or more than a couple of miles away. Using binoculars, spotters can only see a raptor within a range of about two miles due to their small size. They can easily pass four miles away and, for them, still be on track within sight of their coastal highway, but out of our view. Because of these factors, Acadia's information alone does not enable us to draw direct conclusions. We must also look at the findings of other Hawk Watch sites across the New England area.
Hawk Watches around the country allow researchers to collect important data on raptors. When these numbers are brought together, the data help scientists understand the status of the raptor population-if the numbers of a species are increasing, decreasing, or stable in the environment. For example, over the past few years, Hawk Watches have seen a large increase in the numbers of bald eagles, peregrine falcons, and osprey compared to the 1970s. Their numbers from the 1940s to 1970 were severely decreased due to the pesticide DDT, which caused eggshell thinning and allowed very few young to survive.
This event provides rewarding memories and allows everyone in the family to participate in the thrill of spotting birds of prey and learning about raptor migration. Pack your lunch, binoculars, a field guide, and warm clothing, and join us next year for another great season of hawk-watching!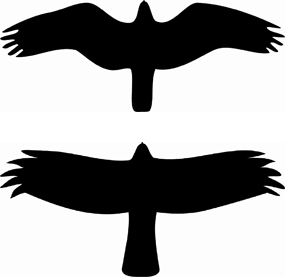 Discover what's happening this season at the Hawk Watch in the weekly update, Riding the Winds, and view the recent daily counts for each species at the Cadillac Mountain page of hawkcount.org.
To help you identify flying raptors, check out these guides to their silhouettes:
Additional Hawk Watch information, including data and observations from previous years, can be found on the following pages: