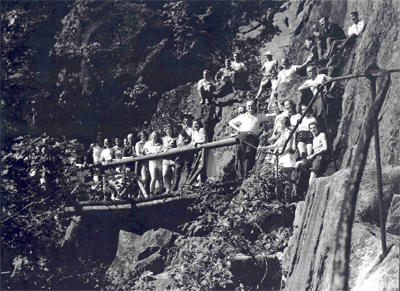 The hiking trail system in the Mount Desert Island section of Acadia National Park offers outstanding hiking opportunities for day hikers. It is also a cultural resource of national significance because of its early origins with the village improvement associations on the island and the high level of design and craftsmanship of individual trails. This craftsmanship is most evident in the steps, retaining walls, and rock pavement built from native granite. In 2002 a hiking trails plan was completed to guide maintenance and management.
Hiking trail use was monitored from 1999-2003 by conducting a census of entries to the entire system on two consecutive days in the first week of August. The 2003 report summarizes all five years. In 2008, we began a long-term monitoring program using electronic trail counters on the Gorham Mountain Trail and the Pemetic Mountain Trail (near the Triad). We also monitor hiking use each year on several mountain summits. For more information on the trail counters and hiker use of summits, see the Mountain Summits page, or view our 2008 report on summits and trails now.
We have also inventoried visitor-created trails on Little Moose Island and along Ocean Drive and are actively managing to reduce their number.
Researchers from Virginia Tech inventoried erosion conditions for the entire hiking trail system on Mount Desert Island in 2007 and conducted a study evaluating the efficacy of several education and site management techniques in keeping hikers on the Gorham Mountain Trail. Reports should be available soon.
For more trails and hiking information, see the
Leave No Trace
page.