Teacher-Ranger-Teacher Blog - 2012
The Teacher-Ranger-Teacher (TRT) program provides opportunities for teachers to connect to the resources in a national park. Keep reading to learn about the experiences of the 2012 TRTs - Nancy and Michael.
Return to TRT Blog main page.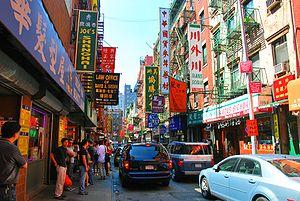 Week 1:
Nancy Welch-
I'm finally here, from the bright lights of the big city, to the star-lit sky of Acadia National Park. My name is Nancy Welch and I am a fifth grade teacher at Yung Wing School, (PS 124) in Chinatown, New York City.I am at Acadia as a Teacher-Ranger-Teacher (TRT) with the intention of bringing my students to Acadia National Park in the fall to participate in a one week residential program at the Schoodic Education and Research Center (SERC).As an inner city educator, and as a person who grew up in an urban area I am more than aware of the learning gap that exists between the students I teach and the students who are educated in more affluent areas of the USA.That disparity includes not only literature, mathematics, social studies and the applied sciences, but a shared knowledge and understanding of the natural world. Yes, the "nature deficit disorder" exists and it is very, very, real.I came to Acadia National Park because I want my students to understand that what they do, the choices they make, the products they buy, matter, that even though they are city kids, living in apartments, never seeing the stars, that they are important players in the health of our planet.But, how do we get them to care? How do we get them to take ownership and responsibility? First, we bring nature to them through stories and lessons, films and spoken word, and eventually we bring them to nature. To patch the "nature deficit disorder" our inner city children must spend time in the woods, and if that is not possible their teacher needs to go so that he or she may serve as a conduit and facilitator to make nature tangible to urban youth. I am honored to be working at Acadia National Park this summer, to wear the park service uniform and do my part as an educator to bridge the 'natural" divide.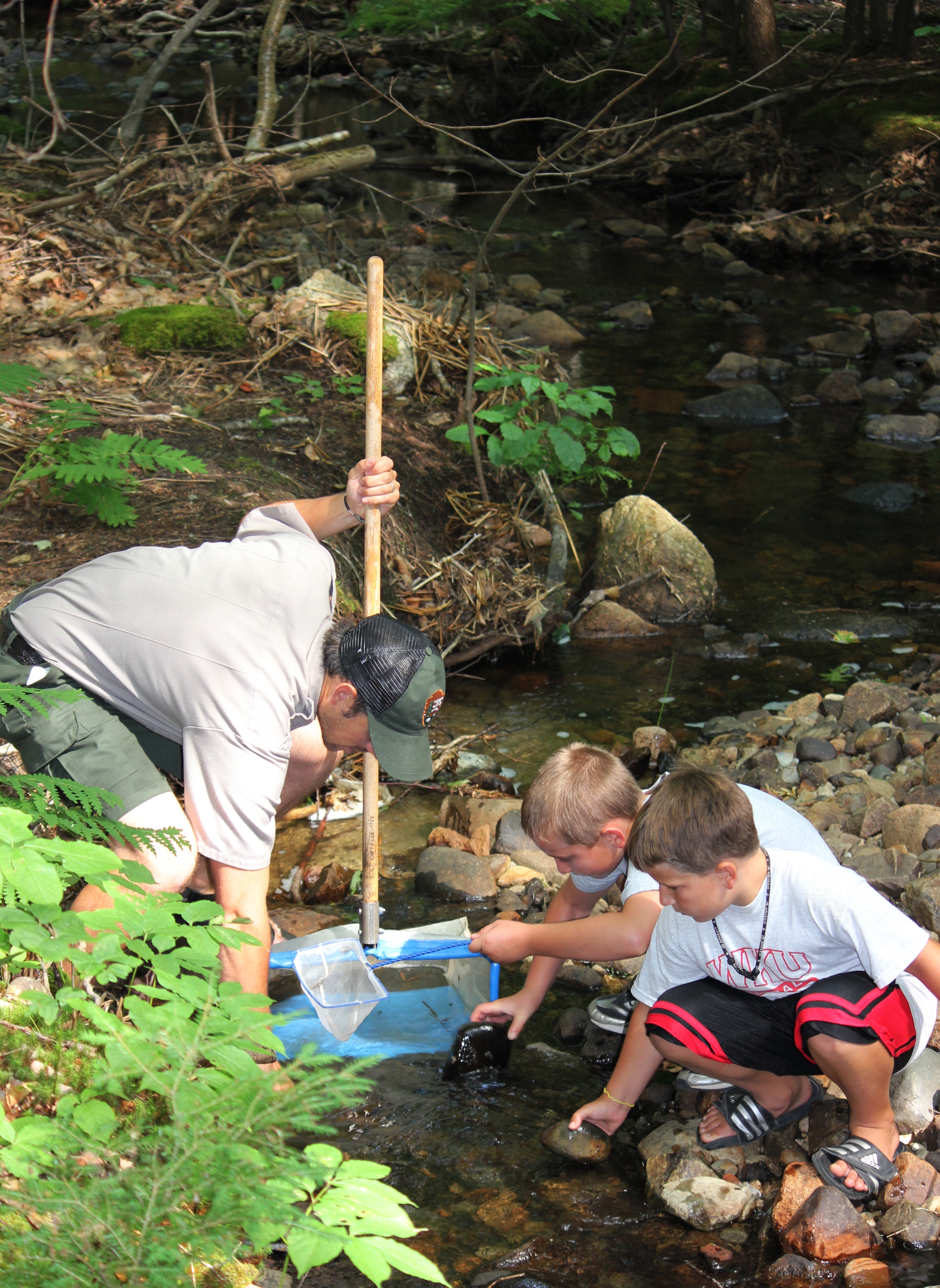 Michael Fournier-
Hello, my name is Michael Fournier and I one of the TRTs this year at Acadia National Park!I am fortunate enough to teach on Mt. Desert Island which is home to much of Acadia.Currently I am teaching middle school reading, writing, and social studies.I am so excited to learn about the park's cultural and natural history this season.
For over a week now I have started my day by putting on the NPS green and tan, the infamous stiff brimmed hat, and the shiny gold badge.This summer I am a ranger, well, a Teacher-Ranger that is.And I am fortunate enough to be working in a park that is actually in my own backyard.No, I'm not a native, but perhaps after 2 years teaching and living on Mt. Desert Island in Maine, I can be considered a local.Regardless, Acadia National Park is a wonderful place to live, work, play, and visit!
As a Teacher-Ranger-Teacher I have been lucky enough to be assigned to three ranger-led programs.Just this past week I led my first program at Sand Beach off the Park Loop Road.It was a hot, muggy morning, but that did not stop the enthusiastic young detectives from showing up for "Super Sand Sleuths."For one hour we questioned, examined, searched, and uncovered the mysteries of this unique landscape in the park.I was reminded of just how meaningful outdoor hands-on learning can be.Everyone was engaged, excited, and ready to learn about Acadia's only natural sandy beach.Outdoor classrooms provide each child with an opportunity to dig in with their senses, and to experience science and history all at once.Seeing all of this made me make a promise to myself that come fall, my classroom will not be constricted by walls, windows, and doors.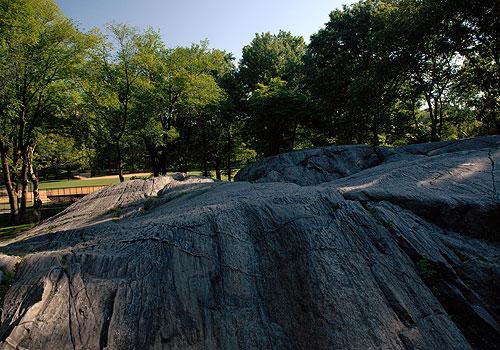 Week 3
Nancy Welch-
Although it would be difficult to decide what I love most about Acadia, if pressed I would have to say it is leading the MOUNTAIN MYSTERIES family hike, a short but steep climb to the top of South Bubble Mountain to unearth its geologic secrets along the way.This program combines three of my favorite activities, hiking, teaching young children and studying geology.Leading this hike has taught me that geology is a tactile science with a strong emotional component.People relate to rocks, they love to pick them up, skip them, collect them, and climb and scramble. Rocks are fun, rocks are ancient, they are mysterious, but above all rocks tell stories. This hike is all about learning to read the rocks.It teaches children to hike "with eyes wide open" and search for geologic clues such as glacial scarring, chatter-marks, glacial erratics and weathering. It teaches children to recognize the three main types of rocks, sedimentary, igneous and metamorphic, by showing them concrete examples that they can find in the park - Bar Harbor Formation, Cadillac Granite and Ellsworth Schist.In addition, as we hike we observe the natural world around us and form hypotheses about the flora and fauna. We ask questions such as why are the trees getting shorter, what is the composition of soil and how can we protect this trail for future generations We also study the health of the forest by comparing healthy beech trees to trees that have been infected with the invasive beech scale insect. Children learn best by doing and this hike represents what is best about place based education.Unfortunately I cannot take Bubble Rock home with me, but I can use what I learned about rocks to develop a geology hike that studies the rock formations of Central Park and surrounding areas.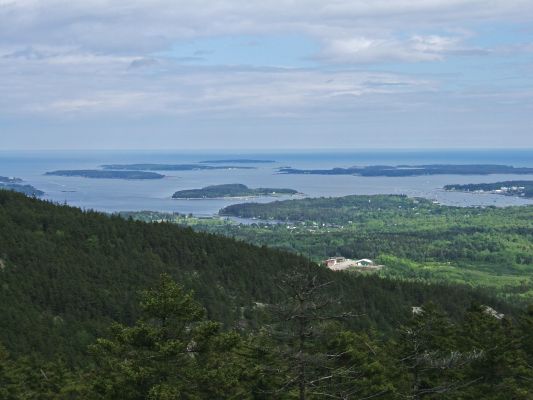 Week 7
Michael Fournier-
My adventures continued today, August 20, 2012, as I led a "Behind the Scenes" hike up and over Bernard Mountain.Unlike Cadillac Mountain that attracts nearly 5,000 visitors per day in the summer time, Bernard manages to lure just a few hundred people each year to its summit.The goal of the hike was to offer folks a chance to hike a lightly used trail that has an interesting history.Throughout the hike it was my goal to give visitors a behind the scenes look at how many paths on the island started, how they have evolved, and how vital the trail crew's work within the park is to the sustainability of Acadia.
The hike itself was approximately 3.5 miles long, so we started early in the day to beat the heat.A hearty crowd managed to find the isolated and often undiscovered Mill Field parking area off of the Western Mountain Road on the west side of the island.After thanking everyone for coming and letting them all know that it was a strenuous loop hike that consisted of rugged forest and ledge, we set off heading west on the South Face Trail leading up to Bernard Mountain.
Acadia's trails have evolved over the past four hundred years.Many of the original pathways that were used by the Wabanaki people were carrying paths between inland freshwater sites.Upon arrival of early European settlements on MDI, cart paths and logging routes were carved through the woods to operate as inter-village transport routes.One of these original cart paths was believed to have started in the Pretty Marsh Pine Hill area, descending between Bernard Mountain and Mansell Mountain, then ending in Southwest Harbor at Norwood Cove.
As we moved through the dense stands of spruce, cedar, and pine we talked about the remaining signs of the Southwest Harbor's Village Improvement Association's work on the local trails.Trails like the South Face trail were built at the turn of the 20th century to connect residents and cottagers from the towns to the mountains.Evidence of the CCC's contribution to the trails in the area stood in the form old sign posts that marked the trail.We stood around one of the two remaining posts and discussed the local CCC camp that existed at the south end of Great (Long ) Pond in the mid 1930s.The CCC took over many of the VIA trails for in 1916, the lands fell under the Federal Government's jurisdiction upon Acadia's birth(then Sieur de Monts National Monument).
I found that many of the visitors enjoyed hearing about the West Ledge Trail as a trail that was at the center of island controversy for decades.The park service abandoned about 65 miles of trails in the 1950s because of funding issues and their inability to maintain over 250 miles of trails.In 1968, the West Ledge Trail faced the same demise.I explained that many of the residents who lived in the area really loved the trail, but since many summer residents never made it over this far and hiked it, it became a trail that the park service did not have the resources to maintain.Throughout the entire 1970s local residents continued grooming, marking, and hiking the West Ledge Trail.It was not until 1993, that the park service decided to reopen the trail permanently.
On our descent we passed over an old structure that was possibly an old fire tower or gazebo.Cranberries, huckleberries, and a few hardy blueberries lined the pathway across the west and east peaks.We ventured down into the Little Notch area that is a large valley that helps separate Mansell and Bernard mountains.The hike down the Sluiceway trail is always an adventure, but the entire crew really enjoyed the lush mossy blanket that covered much of the surrounding forest floor.I had a blast taking people on one my favorite less traveled paths in the park.I have come to realize every trail has its own story.I was proud to say that Ranger Eleanor and I told a story of a lesser known mountain on the island today.I hope the visitors took home a new perspective on Acadia's paths and their evolution over time.What a day!