Teacher-Ranger-Teacher Blog - 2011
The Teacher-Ranger-Teacher (TRT) program provides opportunities for teachers to connect to the resources in a national park. Keep reading to learn about the experiences of the 2011 TRTs - Nanette and Laura.
Return to TRT Blog main page.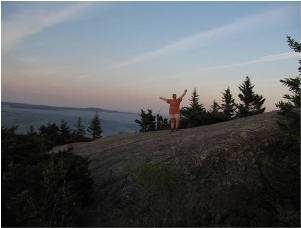 NPS/Laura Stevens
August 19, 2011. I cannot believe my summer as a Teacher-Ranger-Teacher is over! These have been the shortest eight weeks of my life. I relished every minute. My understanding of the wide variety of natural and cultural resources parks protect has expanded by leaps and bounds. In addition, my appreciation for the people who manage, protect, administer, maintain, and interpret these valuable resources has sky-rocketed. I cannot wait to share my new knowledge and enthusiasm with students!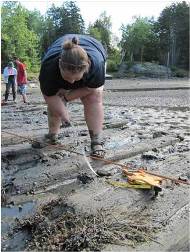 NPS
I encourage you to take each and every opportunity you have to explore the National Park System. Interact with the employees while you are there. You will learn more than you ever imagined and have a fabulous time. It is up to all of us to use these resources responsibly in order to protect them for future generations.
-Laura Stevens
August 12, 2011. Over the summer, I have been thrilled to participate in two of the park's ranger-led programs. I spent Tuesdays working at the Carroll Homestead and Saturdays leading the Mountain Mysteries hike. I enjoyed both programs and learned a ton!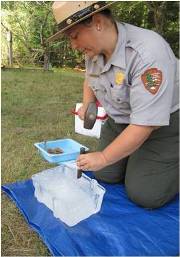 NPS
The Carroll Homestead, built in 1825, started as a subsistence farm. Four generations of Carroll family members lived there. The farm provided shelter, food, and granite for masonry work. In 1917, the family moved to town (Southwest Harbor). The "Mountain House," as it was called, continued to be used for family reunions, picnics, and parties. Finally, in 1982, the Carroll Homestead was donated to Acadia National Park to commemorate an earlier way of life. On a visit to the Carroll Homestead, you can meet a descendent of the family who shares a family quilt, a treasured doll, and stories of family life. You can tour the house and grounds. Period toys, such as tops and stilts, and games, such as jump rope and the graces, are available for play. You can dress in period clothing, help stitch a quilt, watch a granite-splitting demonstration, and try out the cross-cut saw. It is a great opportunity to spend time immersed in what it was like to live in the 1800s. One day each week in July and August, the "Mountain House" is open and the special activities occur, but you can walk the grounds of the Carroll Homestead anytime.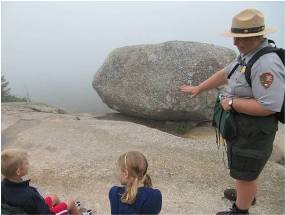 NPS
Mountain Mysteries is a hike up South Bubble Mountain for children (ages seven and older) and their families. Along the way, you help solve the geologic mysteries of the mountain. During the hike, you learn about the three types of rocks, the rock cycle, and the names of the different sizes of rocks. You also learn about how glaciers changed the landscape of Acadia. At the end of the hike, you arrive at Bubble Rock, a huge glacial erratic that was transported by a glacier to South Bubble Mountain from 30 miles away! The hike is fun, and you learn a lot.
Ranger-led programs are a wonderful way to learn about the park. Programs include hikes, walks, boat tours, bike rides, and presentations. Topics include history, geology, the ocean, photography, the night sky, plant life, and animals. Participate in a ranger-led program when you visit Acadia. You will learn and have fun at the same time!
-Laura Stevens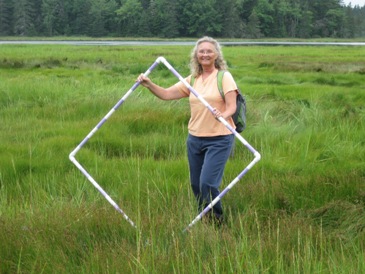 NPS/Nanette Melero
August 4, 2011. Tomorrow is my last day. The six weeks have just flown by! During my assignment as a Teacher-Ranger-Teacher I've worn many hats. I worked at the Nature Center and helped with programs as an Interpretive ranger, and I helped monitor water quality, invasive plants and phenology with Resource Management. I worked with a bat researcher, a team doing an inventory of saltwater marsh plants and an archaelogist mapping the remains of a ship wreck. Part of my experience included the annual BioBlitz, which focused on Lepidoptera (moths and butterflies). I also sailed on ranger- led trips to Baker Island and Isleford, and on a whale watch trip where I saw puffins, harbor seals, harbor porpoises, Atlantic white sided dolphins, a finback whale and a blue shark.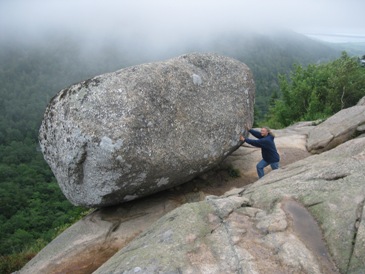 NPS/Nanette Melero
As part of my Acadia adventure I walked on carriage roads, climbed mountains, kayaked on Long Pond, picked blueberries and explored ponds. Jordan Pond House tea and popovers called my name. Part of my wish list included wildlife sightings, and I was not disappointed. I had an up close and personal experience with the Jordan Pond resident beaver family. Plus I've seen bald eagles, various sea birds, deer, beavers, a loon, an osprey, various hawks and songbirds, a groundhog, many types of frogs and dragonflies, spittlebugs (or at least their spittle-protection), garter snakes, turtles, dragon and damsel flies, fishing spiders and numerous moths and butterflies. I also learned how to recognize poison ivy (a little after the fact!) and caddisfly larva. There was never a dull moment and I'm going to miss the people, the island, and the positive energy of Acadia. My experiences have not only allowed me to enrich my classroom instruction, they have allowed me to face some fears (heights!) and reflect on what is really important: living life in the moment and taking the time to stop and smell the balsam fir!
-Nanette Melero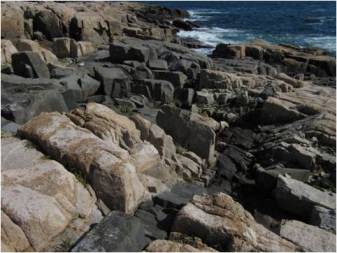 NPS/Laura Stevens
July 29, 2011. Recently, I was able to explore two of the less visited parts of Acadia National Park. While easily accessible, the Schoodic Peninsula is a bit off of the beaten path. Isle au Haut is more remote and requires more planning to access.
The Schoodic Peninsula is the only part of Acadia National Park that is on the mainland. While only four miles east of Bar Harbor as the bird flies, to get there takes a little over an hour in a car or on a ferry. The Navy operated a communication station on Schoodic until 2002. Now, their former facilities have been renovated into the Schoodic Education and Research Center (SERC) dedicated to increase the role of scientific research within the park. SERC is surrounded by beautiful scenery accessible by a six-mile loop road. You will see lighthouses, sea birds, and off-shore islands. At Schoodic Point, giant black diabase dikes intrude into the pink granite. You can drive or hike to the top of Schoodic Head, the highest point on the peninsula, or walk over to Little Moose Island at low tide. The Schoodic Peninsula is well worth the trip.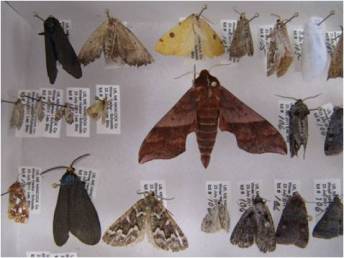 NPS/Laura Stevens
I was there for Acadia National Park's annual BioBlitz. During the 24 hour BioBlitz, the biodiversity of a specific group of invertebrates is documented. This year, the focus was Lepidoptera (butterflies and moths). Participants learned how to capture, process, and mount specimens. While I have always enjoyed butterflies, at the BioBlitz, I gained an appreciation for the diversity and beauty of moths. Over 320 species of Lepidoptera were collected; most of them moths!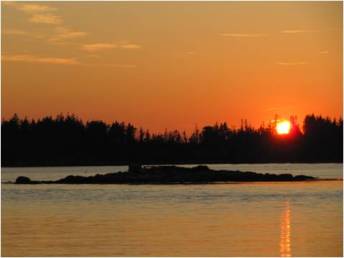 NPS/Laura Stevens
Isle au Haut, "High Island," is accessed via ferry from Stonington, which is about an hour and a half drive from Bar Harbor. The passenger-only ferry takes campers and day visitors. (If you want to camp, plan early; there are only five sites on the island, and reservations are taken beginning April 1.) There are 18 miles of trails from which you can view bogs, marshes, a freshwater lake, woods, and rocky shorelines. The island is peaceful and gorgeous. It is well worth the effort it takes to get there!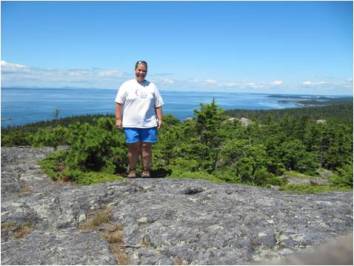 NPS/Laura Stevens
I encourage you to take the time and make the effort to visit some of the more distant sections of Acadia National Park. Your efforts will be rewarded.
-Laura Stevens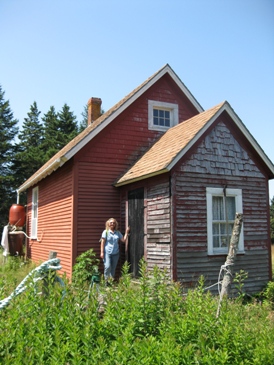 NPS/Lisa Girardin
July 21, 2011. This week has been, as usual, full of different and exciting experiences! Besides the usual Sand Sleuths program where I assist, and the time I'm scheduled at the Nature Center, I managed to have two other very different adventures. My first adventure was a boat trip to Baker Island. On the way over, Ranger Lisa helped us look for and identify marine birds and mammals. We also spotted a bald eagle resting on some rocks! At the island she led us on a hike where we learned about the original homesteaders and the history of the island. It was a beautiful day, the sea was warm and calm, and the hike on the island was a great opportunity to imagine what life had been like for the early families there. The trip back to Bar Harbor was just as fun, as the captain of our boat described the lobster fishing culture he grew up with, and showed us live creatures he'd caught while we were on the island.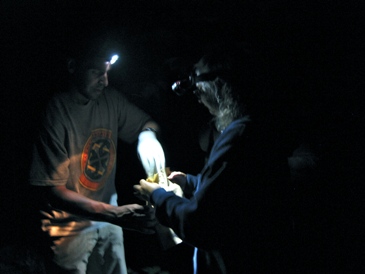 NPS
The other new adventure for the week was a chance to observe and help out (a little) a researcher who was collecting information on bats in Acadia. He had completed a study last year, and returned to revisit some of the sites and see if there were any changes. While we weren't allowed to touch any of the bats, we got to help finish setting up the nets, bag the bats, ask as many questions as we liked and take pictures! We met the team just before 8:00 p.m. and we were home by 11:00 p.m., but they were planning to be there for a few more hours, as long as they were catching bats. We caught about ten bats representing five different species in the short time we were with them. Each bat was examined to assess health, measured and weighed, banded (except for those that already had bands) and then released back into the night to continue foraging for insects. Each species has subtle differences in their characteristics, but all were amazing to see up close, and absolutely adorable! Bats sometimes have an undeserved, bad reputation, but they are vital to our ecosystems, and the data that was being collected may help two of the species to acquire protected status as endangered species. It was exciting to be a part of the process!
-Nanette Melero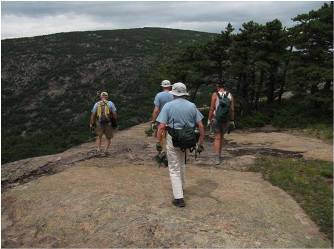 NPS/Laura Stevens
July 15, 2011. During the past two weeks I have been fortunate to get to know more about Friends of Acadia (FOA). FOA is an independent nonprofit organization focused on protecting the natural and cultural resources of Acadia National Park for the future. They advocate for Acadia, make conservation grants, and lead a huge corps of volunteers.
My first FOA adventure was joining the volunteer work crew that meets three times a week. There were three projects being undertaken. One crew was spreading gravel on a carriage road. Another crew was working on a carriage road's drainage system. I joined the crew that was "brushing" on Beechcroft Trail. Wearing work gloves and carrying tools, the five of us (led by Julia Schloss) hiked past Huguenot Head and up toward the summit of Champlain Mountain. We trimmed tree branches and bushes that were growing over the trail as we hiked. The setting was beautiful, the volunteers were friendly, and the work passed quickly. When you visit Acadia, consider joining an FOA work crew for a morning to practice good stewardship.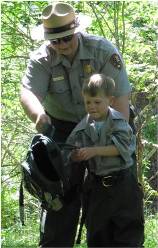 NPS/Delora Hilleary
My second FOA experience was Family Fun Day. At Family Fun Day, FOA and the park partner to present special activities for kids and their families. These experiences are designed to help kids feel connected with nature and to develop a sense of stewardship toward the park. The many activities ranged from dip netting in a stream to learning about search and rescue. At my station, kids raced to get dressed in a park ranger uniform. The kids had a lot of fun and looked terrific in their uniforms. Maybe you can attend Family Fun Day next year.
My time at Acadia is flying by! I wonder what new adventures this week will bring.
- Laura Stevens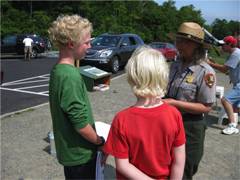 NPS
July 8, 2011. Well, I have finished my second official week as a TRT. Just as Acadia is unique because of its diversity, the activities I've been involved with have also been very diverse. I've had the chance to assist with two weekly programs, "Sand Sleuths" and "Peregrine Falcon Watch", be interviewed by Jr. Rangers and swear them in. I've also worked at the desk at the Nature Center, participated in resource training opportunities, helped prepare for Famiy Fun Day and assisted with water quality monitoring at a stream. In addition to the aforementioned scheduled duties, I've attended some ranger led programs, spent time walking, hiking, eating, riding the Island Hopper (Bar Harbor's propane-powered free shuttle service), swimming and just enjoying the serenity and beauty of Acadia. No two days are ever alike!
While I could spent hours talking about my amazing experiences, I'll focus on just one. I very much enjoyed the Peregrine Falcon Watch in spite of the fact that we didn't see any falcons (it appears the nesting site has failed and this program has since been terminated for the summer). Many people that we talked to knew nothing about the peregrines but were quite captured by their story. They had even stopped by on other days to observe and learn about the monitoring. Then again, many others have been coming to the park for years and and have been following the peregrine tale, and were concerned because there were no chicks this year. These people have a connection to the park and the falcons, and that's the goal of the interpretive programs: to help people connect at an emotional level. Interacting with the visitors at the site made me realize just how important the rangers and volunteers are in helping people make those connections. And, I have to say that in the short time I've been here, and even though I have yet to sight one, the peregrines have become a part of my world as well!
-Nanette Melero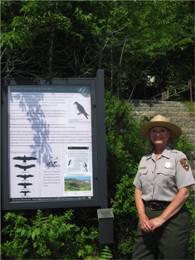 NPS
June 29, 2011. Hi! My name is Nanette Melero and I am a second grade bilingual teacher at Tierra Vista School in Oxnard, California. In addition to second grade I also co-teach our GATE class. This year I have been fortunate to have been selected as one of two Teacher-Ranger-Teachers at Acadia National Park in Bar Harbor Maine. As aTRT my job includes helping interpretive rangers with park programs and learning as much as I can about the national park so I can share my experience with my students back home. While I am here I will be developing lessons to address standards at the grade levels I teach, but I will also be developing a program to present school wide during National Parks Week in April.
For the next six weeks I will be living at Park Headquarters while I work and explore the park. After three days of training and orientation I must say I am looking forward to an incredible summer. The park staff are awesome, committed to their jobs and love the park, and what's not to love? Acadia is one of the most beautiful, diverse and amazing places in the world, and I'm already looking forward to introducing my West Coast students to their new East Coast friend!
-Nanette Melero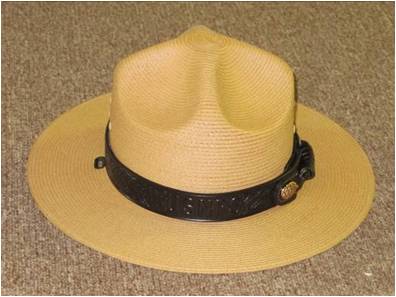 NPS/Laura Stevens
June 29, 2011. Hello from "the Hill," my summer home in Acadia National Park. My name is Laura Stevens, and I am a Teacher-Ranger-Teacher at Acadia National Park. During the school year, I teach second grade in South Portland, Maine. I love teaching, learning, and the outdoors, so the Teacher-Ranger-Teacher program is a perfect fit for me. Plus, Acadia National Park is one of my favorite places. I have been to Acadia many times as a visitor, but this summer I get to experience it from a new perspective. I get to put on my ranger hat and be a part of the park. I cannot wait to share my love of this place with visitors like you. It will be a fabulous summer!
In fact, the first three days alone have been amazing! I have learned about all the different jobs there are at a National Park. There are park employees who are teachers, guides, scientists, historians, carpenters, mechanics, firefighters, and law enforcement officers, just to name a few. They all love this place, and you can learn a lot just by talking with them. If you love nature, you should consider working for the National Park Service!
Last night, I went on the Starfish Enterprise for an adventure with Diver Ed. Diver Ed went underwater with an amazing high definition video camera. He and his wife, Captain Evil, taught everyone onboard about life at the bottom of the sea. Did you know that sea cucumbers have tentacles? Some species put their tentacles out into the current to catch the plankton that floats past them. They also 'breathe' by sucking water full of oxygen into their behinds! Diver Ed and Captain Evil were fantastic; they are funny and educational. When you visit Acadia, you should try to take a trip with them on the Dive-In Theater Boat Cruise.
So far, my life as a Teacher Ranger has been great. I will be sure to keep you up-to-date with my adventure as it continues over the summer.
-Laura Stevens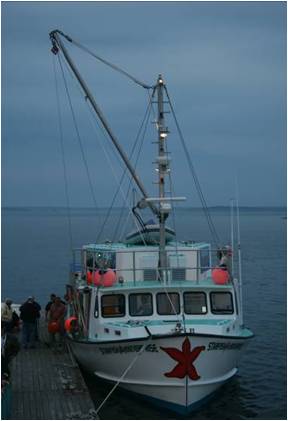 NPS/Laura Stevens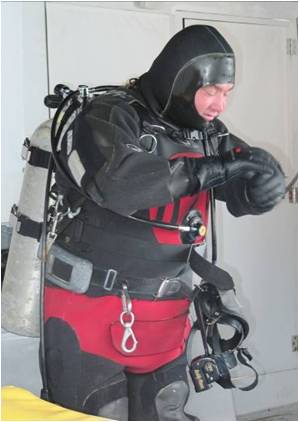 NPS/Laura Stevens

NPS/Laura Stevens