Teacher-Ranger-Teacher Blog - 2010
The Teacher–Ranger–Teacher (TRT) program provides opportunities for teachers to connect to the resources in a national park. Keep reading to learn about the experiences of the 2010 TRTs—Abbie, Kim and Eileen.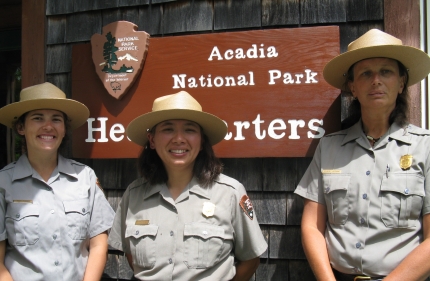 NPS/Cynthia Ocel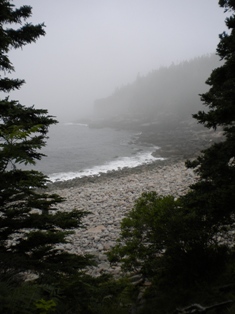 NPS/Kim Hutchins
Friday, August 13th
As I reflect upon my time spent at Acadia National Park this summer, several observation surface and seem relevant to share. Some of the things I most enjoyed while participating in the Teacher-Ranger-Teacher program were learning about the history of Mount Desert Island and Acadia National Park, being exposed to scientific and research processes, and interacting with staff and visitors. I also enjoyed the relative freedom I had to explore the park and develop curriculum. I am very impressed with the level of knowledge park rangers possess regarding learning styles and educational best practices, as well as mastery of their content areas. Non-ranger staff were very helpful and welcoming. I was also impressed with the morale of park employees and the enjoyment they get from their work.
Last year, several of my students shared with me that they would like to spend more class time outdoors. We attempted this on several occasions with mixed results. Observing rangers as they deliver programs this summer has given me some new strategies and knowledge to implement in hopes of improving and broadening those outdoor experiences.
Lastly, I am intrigued by the relationship that exists between the well-being of youths (mental health issues and executive function deficits), increased screen time, and "nature-deficit disorder". As an educator, I want to continue exploring new ways I may be able to open new doors for my students, raise awareness of these issues, and help them make healthy and informed life choices.
-Kim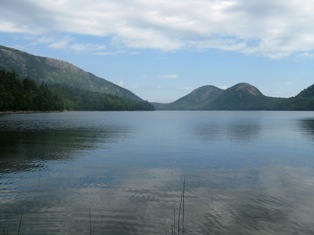 NPS/Abbie Plaskov
Thursday July 29
As I sat in a boat in the middle of Jordan Pond learning about lake monitoring with two Acadia National Park field staff, I couldn't help but reflect on how many people the park depends upon. From the people who first thought this area was worth preserving to the rangers who are working this season and everyone in between, Acadia wouldn't be what it is if not for all these people. It has been a privilege working in the national park this summer and gaining an even greater appreciation for not only the land, but also for its people, past and present. I can't wait to take into my classroom everything I've learned and hopefully help my students appreciate these things too.
-Abbie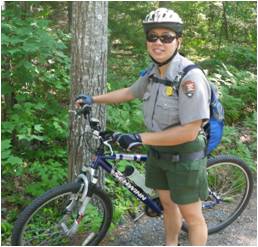 NPS/Tim Garrity
Week 7, July 18, 2010
This week, I went out with researchers to collect and band bats, assisted with water quality testing at Sand Beach, Echo Lake, and Lakewood, and accompanied researchers collecting and banding sparrows at Bass Harbor Marsh. I also assisted Ranger Tim in giving the Biking the Bridges program. Because of my preparation in reading Mr. Rockefeller's Roads, I was able to provide some background information about the bridges. It was a successful program because everyone had a good time and learned a little in the process.
-Eileen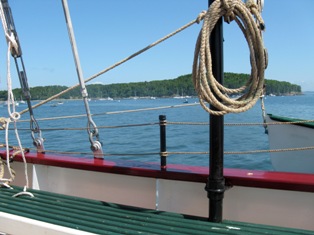 NPS/Abbie Plaskov
Friday July 16
"What is your job this summer?" I've tried to explain the answer to this question many times over the last few weeks but I've found it hard to put into words my experience of being a TRT. When answering, I start by saying that I work for Acadia National Park. "Oh so are you a Ranger who does those programs (the Ranger-Led Programs the park has to educate visitors about the area)?" No, I answer; I go on those programs, I go out with researchers, I talk with Park staff, I do a variety of things. "So you do what the tourists do?" They finally ask. And I have to be honest and say that yes, in fact, some of what I am doing is what the tourists do. You see, I am a local teacher and the people who live in this area generally try to steer clear of the throngs of people who come to visit the area each summer season. But this experience is helping me see Mount Desert Island and Acadia National Park in a whole new way.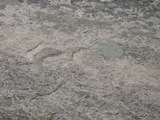 NPS/Abbie Plaskov
I'd never been on a Ranger-Led Program during the summer prior to this job and some of what I'm learning about is the history of Mount Desert Island and Acadia National Park, and the geological processes that formed the Island- two units that I teach my students. But possibly more important than learning these things that are related to my curriculum is modeling to my students how to be a lifelong learner. I am experiencing new things every day, learning new and exciting things, meeting new people and this is a lesson that I am excited to pass along by showing my students what I did over the summer.
I still don't know how to succinctly answer the question about my job this summer, but after explaining what I do every day no one asks if I'm enjoying it- they can tell I love it.
-Abbie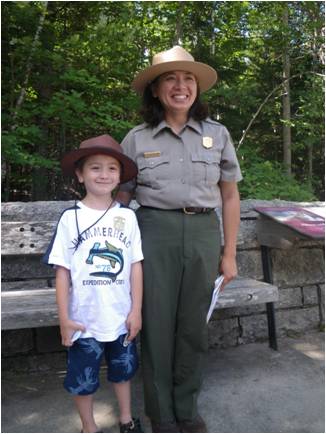 Week 6, July 11, 2010
This week TRT Kim and I traveled to St. Croix Island International Historic Site in Calais, ME, another National Park Service unit about 120 miles northeast of Acadia National Park. We learned all about the history of this early French settlement in North America. There is a short interpretive trail with six wonderful bronze statues depicting French settlers and native Wabanaki people that traded with the French.
Since my family was visiting, I also went sea kayaking with my sister and acted as tour guide for my parents. But the highlight of the week was definitely swearing in my 7-year-old nephew Connor as a Junior Ranger at Acadia National Park. We talked about all the activities he completed in his week-long visit and then he took the Jr. Ranger oath. It was a proud day for us both!
-Eileen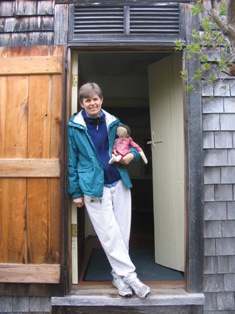 NPS/Donna Healy
Tuesday, July 6th
Today was the first open house at the Carroll Homestead - we had approximately 43 visitors. All went well and I look forward to my weekly program there. The history of the homestead and the family is so interesting to learn about and being there makes imagining the lifestyle (its joys and hardships) more possible. I really enjoyed listening to volunteer Joan Jordan Grant, a direct descendant of the Carroll family, share her memories, knowledge, and stories. She brings a quilt and doll named Lydia to the program that were actually made by her ancestors. Lydia was made by Joan's great grandmother, Rebecca Carroll, 99 years ago. The preservation of this farmhouse is a treasure for many generations.
-Kim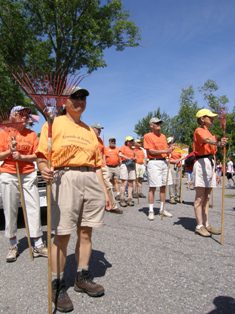 NPS/Jonathan Gormley
Week 5, July 4, 2010
This week I toured Acadia's McFarland Air Research Station (MARS) to learn about all the equipment the park uses to study gaseous pollutants. For example, a nephelometer measures suspended particles in the air by looking at scattering of light.
I think the highlight of the week was working on a Volunteer Trail Crew with the Friends of Acadia around the Duck Brook Bridge area carriage roads. We cleaned out culverts and drainage ditches to combat water erosion, the enemy of crushed stone roads. This led to my participation in the "Imprecision Drill Team" during the annual Bar Harbor Fourth of July Parade. We performed routines while marching with rakes, shovels, and pole saws. We even won an award for Best Theme - this year's parade theme was Keeping America Beautiful. No one does that like Friends of Acadia who help keep the 125 miles of trails and 45 miles of carriages roads maintained for all to use.
-Eileen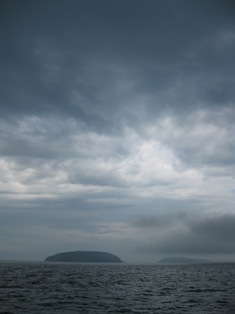 NPS/Michael Marion
Friday, July 2nd
Baker Island cruise today!!!! About Baker Island..... when I was here in '76 as part of the Youth Conservation Corps (YCC) we were all required to spend one week working out there at a primitive camping site. I remember that I was part of the first group to go so we had to set up the camp that would be used all summer. One of the counselors led me and one of the boys to a site in the woods where lumber, hand tools, a shovel, and a toilet seat had been left. He informed us that our job that day was to dig a hole and build an outdoors latrine to be used all summer. Basically, it was a hole with a wooden box on top, and a toilet seat attached. No walls, roof, or door. Some of us opted to spend a 2nd week on Baker Island. Yes, I volunteered. I remember that one of my jobs that week was to climb to the top of the light keeper's house and dismantle the brick chimney and number the bricks for a mason to restore. We were straddling the peak with no ropes or harnesses, rock all below us. I don't think it was OSHA compliant but I thought it was fun and enjoyed being way up there and looking out at the ocean while chiseling bricks and mortar.
On the way to Baker my camera battery died, so sadly, no pics. I did ask a few people on the cruise if they would email me some of theirs, we'll see....
It was incredible to return to such a special place after so many years. Seeing the area brought back several memories and I learned much of the island history that I had forgotten from Ranger David. I was fortunate enough to find the very place on the island where we set up our base camp 36 years ago and was surprised at the emotional response I encountered. A very strong connection.
-Kim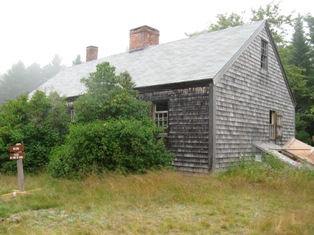 NPS/Abbie Plaskov
Tuesday, June 29th
Spent the morning at the Carroll Homestead in Southwest Harbor with Ranger Donna and Martha, a park volunteer. We will be working together at the weekly Carroll Homestead open house. The homestead was donated to Acadia National Park in the mid 1980s and is open to the public every Tuesday in July and August. The Carrolls inhabited the farm from 1825-1917. Four Generations in Maine: The Carroll Homestead is a good resource for the family history and is sold in the park bookstores. My part in the drop-in program will consist of opening up the house for public viewing, sharing photo albums, making toys and games available to visiting children, and possibly conducting interactive demonstration of granite cutting and cross-cut sawing. I am looking forward to participating in this program as I love the time period and the rugged, independent nature of these people.
-Kim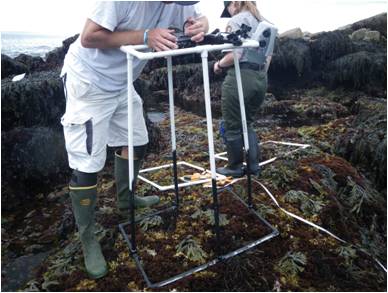 NPS/Eileen Allison
Week 4, June 27, 2010
Researcher Jeremy Long and his graduate student are studying the different tidal pool algae at 6 sites in Acadia National Park, as well as other locations along the Gulf of Maine. I was privileged to assist in their park research for a day, along with 2 Resource Management staff. We wore rubber knee boots and knee pads. The rocks are covered in very slippery algae and razor-sharp barnacles. There were 25 plots that had to be located and photographed. We also collected, counted, and measured the sizes of snails, sea urchins, and sea stars since these animals feed on the algae. In one pool, there were almost 200 sea urchins and 9 sea stars. Some are shown here.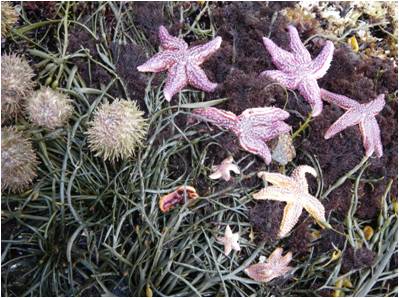 NPS/Eileen Allison
I also attended a two-day workshop called Leave No Trace for Trainers at Baxter State Park, in Millinocket, Maine. We learned about the 7 principles of Leave No Trace—Plan Ahead and Prepare, Travel and Camp on Durable Surfaces, Dispose of Waste Properly, Leave What You Find, Minimize Campfire Impacts, Respect Wildlife, and Be Considerate of Other Visitors. This was a great course, partly because we got to practice the principles in an outdoor setting and partly because we had such a wonderful group of participants and trainers. I look forward to putting these skills into practice.
-Eileen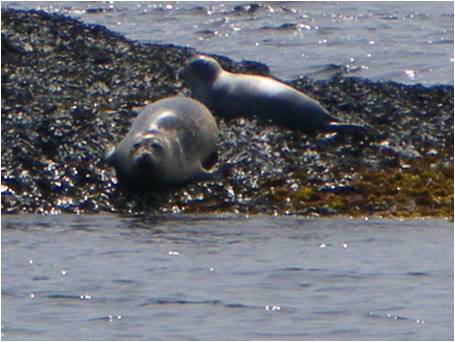 NPS/Eileen Allison
Week 3, June 20, 2010
This week I took the ranger-led Islesford Historical Cruise. We spent about 40 minutes on Little Cranberry Island exploring the museum and learning all about island life in the 1800s. We even saw some harbor seals along the way.
I also went to the Animals of Acadia children's program at the Sieur de Monts Nature Center. The kids loved it! We looked at scat, track photos, and fur, and tried to guess the animal that left us these clues. During the 45 minute program, the interpreter discussed snowshoe hare, fox, coyote, porcupine, and more.
-Eileen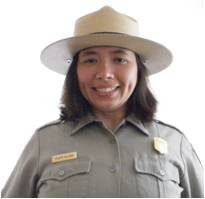 NPS
Week 1, June 6, 2010
Hello! My name is Eileen Allison, and I am a teacher-ranger-teacher at Acadia National Park. I just finished the school year and packed up my Chemistry classroom at Meadowcreek High School in Norcross, Georgia, for the summer at the same time I packed up all my hiking, biking, camping, and kayaking gear to come here. The drive seemed endless—a solo 1,300 miles—but I finally made it here, and I am so excited to begin this great adventure.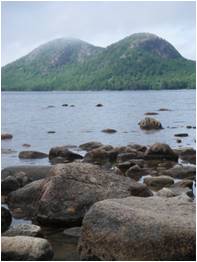 NPS/Eileen Allison
My first week has been in training, getting to know more about the National Park Service and Acadia National Park, and meeting all the wonderful and knowledgeable people who work here. The terrain here is a stunning mixture of mountains, rocky shores, crashing waves, coniferous and deciduous forests, lakes, streams, ponds, and marshes. Wildlife is everywhere. So far, I have seen deer, hawks, chipmunks, red squirrels, grey squirrels, herring gulls, peregrine falcons, turtles, periwinkles, slugs, snowshoe hares, and beavers. It is absolutely beautiful!
-Eileen