Teacher-Ranger-Teacher Blog 2009
The Teacher–Ranger–Teacher (TRT) program provides opportunities for teachers to connect to the resources in a national park. Keep reading to learn about the experiences of the 2009 TRTs—Nena, Sharon and Maggie.
August 17, 2009. The cicadas are buzzing and the asters are blooming. Autumn is approaching. It is time to say good-bye to Acadia and head home.
No more climbing to the tops of the mountains to look down on the lakes below. No more sitting on the shoreline watching the waves crash against the rocks. No more watching meteors streak across the sky from the top of Cadillac Mountain. No more discussing rock formations with Nena. No more wandering along trails searching for wild flowers and trying to locate the bird that is singing so cheerfully. No more looking forward to the new adventure each day here has brought.
But the story is not over. Now I go back to my students in northern Maine and share all of the wonderful experiences. Just maybe I can make enough of an impression on them so they appreciate the treasures we have in our national parks. Some day they can bring their children and grandchildren out to enjoy the same things I enjoyed, because the legacy will continue as long as there are people who understand the importance of our national parks.
Thank you Acadia and all of the wonderful people I have met here!
—Sharon
August 12, 2009. It's been quite a while since I have written, and in the meantime, holy cow, have I been busy. If I could only use one word to describe these past weeks at Acadia that word would be "variety." I have done the most amazingly weird things that I NEVER pictured myself doing. Last weekend I participated in a BioBlitz—24 hours of collecting the "minor orders" of insects. I still have no idea about most of these insects. I knew cockroaches and grasshoppers before the blitz, and now I have a passing familiarity with bark lice, but that's about it.
I have gone on seven different ranger programs, excluding the two I get to participate in. I've helped a researcher working on intertidal birds and assisted in monitoring lakes, streams, and beaches in the park. Well, I say "assisted." Really it was more like watching from the extreme front row. I've also volunteered in Collections, helping box the insects collected in last year's BioBlitz. The park has also sent all the Teacher Rangers over to Schoodic for teacher institutes—Integrating Park Resources, and Earth Science.
Before signing off, I'd like to say a few words about the park uniform. It needs a soundtrack. The first time I tightened that leather pinecone belt I felt like Batman, or Aragorn right before Helm's Deep. It was a moment that definitely required an exciting soundtrack. That's my suggestion to the NPS. Equip uniforms with stirring soundtracks.
—Maggie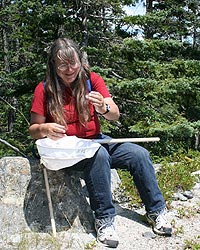 NPS/Todd M. Edgar
August 12, 2009. It's bioblitz time at SERC! What is that, you ask? A bioblitz is when a bunch of experts (in this case entomologists) and amateurs (in this case me) get together to identify and record all the samples of an organism (in this case minor order insects) they find in 24 hours in a defined region (in this case Schoodic Peninsula). It sounds simple, except I do not know a minor order insect from a major order one.
During the introduction I frantically take notes so I do not make a fool of myself in the field. In spruce trees, under rocks, a millimeter long, long antenna, jumps, single wing pair… I will never remember all of this! Next we are shown various methods to collect insects and then sent out into the field. I choose my weapons (a beater stick, a net, a pooter (aspirator), some plastic containers, and recording paper) and hop in with a couple of experts hoping to get some pointers.
The experts are wonderful, allowing me to watch them until I feel comfortable enough to try it on my own. After a few awkward attempts of collecting mostly spruce needles with a few insect parts thrown in, I perfect my method using a pooter to collect anything that hops, has long antennae, is tiny, or looks anything like my rough sketches.
When we return to the lab I stick around to see how badly I did. They dump my first sample into a dish and put it under a microscope as I hold my breath waiting for the verdict. Yes! Out of the 15 creepy crawlies in that sample they take four to save for cataloging. Now off I go to the nighttime bug-collecting shindig!
—Sharon
August 6, 2009. While the natural beauty is the reason for its existence, it is the people here that are the true heart of Acadia.
The interpretive park rangers are the most visible. They are the ones who are providing the programs to educate the public about all aspects of the part. They have a vast variety of talents and educational backgrounds to bring to the programs. I have learned so much from each and every one of them.
Law enforcement in the park has a different twist from the rest of the world. When I shadowed one of these rangers, I expected to see how they issued speeding tickets. Instead the ranger jump-started a car for a couple from Korea, evaluated the condition of a seal pup on some rocks, took a photo for a family from India, and fed lunch to Max, the park horse. They do issue parking and speeding citations, but making sure that everyone has a safe and enjoyable visit is their top priority.
The park has many researchers, some who monitor the waters in the park on a regular basis and others who come in to study one aspect of the park. I have been able to observe them collecting water samples to check for bacteria and monitor the pH, dissolved oxygen and turbidity of the lakes. I assisted a graduate student by counting birds and people to see how they impact the intertidal region. I also was able to go up on Cadillac Mountain with a botanist to gather seeds from a rare plant, which will be frozen to assure its survival. It is their work that will keep the park healthy for the future.
But the most amazing people are the volunteers. There are young interns in the park who are here to gain experience while sharing their unique skills. There are retired folks who come in their campers and volunteer their summers to the park. And then there are the Friends of Acadia. The median age of these dedicated people must be in the 60s, yet they are here keeping the trails in excellent condition for the visitors to enjoy. I will never forget watching a wonderful woman straddle a rock wall to cut down the sumac that was blocking the view of Monument Cove. She is an inspiration to us all!
These people are the heart of Acadia and I want to thank them all for making the park what it is.
—Sharon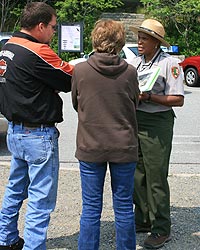 NPS/Ray Radigan
July 29, 2009. After being in Acadia for a few weeks, I have connected with nature because I think I am a naturalist by heart. I am hearing sounds that I don't hear in the city, but that I did hear when I was a child. These are the sound of birds. When I hear birdcalls or songs, they remind me of how peaceful nature can be.
I love using my creativity when taking photographs of nature. While in Acadia, I have had an opportunity to take pictures of nature at its best—including birds. A few days ago, while out on the Peregrine Watch, I took a picture of a black-billed cuckoo. I asked the ranger what this bird was, and she told me. She also said most people have difficulty seeing them because they tend to hide. I felt good that I was able to get close enough to get a close-up without breaking its peace.
Growing up in a small community, I heard birds all the time, but I never thought about watching them on a regular basis. As I take pictures, I notice the birds have distinct characteristics, which I never thought of growing up. As a child, there were a few types of birds: red birds, blue birds, yellow birds, crows, and sparrows (all brown birds).
I have found I have an interest in birding—how much, I don't know. I just took an interesting Basic Birding tour with a park ranger. At first, he showed me the correct way to use my binoculars and then how to identify birds once you see them by looking for certain characteristics (size, markings, activity, song, & habitat). Since then, I have also gone on an Acadia's Birds tour, which was just as interesting. After the bird outings with the rangers, I now hear bird sound clearer, and I look in the direction of the sound and for the bird. I am not seeing birds as colors of my childhood.
—Nena
July 15, 2009. Since I last wrote I have hiked many more miles of Acadia's trails, sailed around Frenchman's Bay on the Margaret Todd, experienced the moon rising from Sand Beach and the sun rising from Cadillac Mountain, watched children play with toys from the past at the Carroll Homestead, and saw my very first puffin.
Acadia National Park is about all the senses. It has the saltwater tang of the ocean as well as the musty earthiness of the conifer forests. I know sweet fern is nearby just by the fragrance. It is the stickiness of the sap of the white pine tree I accidentally hugged in the dark, the smoothness of kelp, and the roughness of the pink granite. It is waves crashing against rock, cobbles rolling as the water returns to the sea, gurgling little brooks along the trails, and the beautiful songs of all of the birds I am trying so desperately to learn. It is the taste of a juicy blueberry found at just the right spot to give a boost of energy for climbing the next steep trail. It is all of the things to feast your eyes upon from the tiniest wildflower to the grandest vistas.
My advice for anyone who has the opportunity to visit Acadia is to find a spot away from the crowds and settle on for a bit. It could be by the ocean, near a pond, next to a tide pool, beside a brook, or at the summit of a mountain. It doesn't matter where you choose. When you find your spot, sit quietly and use all of your senses. It then that you will observe all of the little wonders that make up Acadia.
Does anyone know how to remove tree sap from a jacket?
—Sharon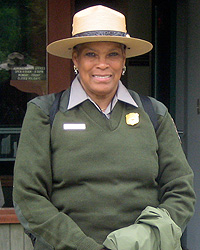 July 8, 2009. I have been here for a few days and it seems as though the world is at peace. However, I did have to get used to the total darkness at night and its quietness (no city lights, sirens, car alarms, etc). I am getting better at dealing with it. However, it has rained for about a week, but somehow I don't seem to mind it. Maybe it is because of the differences between city life and Acadia.
The rain stopped for two days so that I could attend a Leave No Trace Workshop. The participants and I were exposed to many do's and don'ts that may help or harm fragile environments of parks. This exposure helped me to become environmentally friendly while appreciating outdoor activities in urban and wilderness surroundings.
Taking this awareness workshop has really changed my definition of camping that I have had for many years. When I was young, my mother took my brothers, sisters, and me to Church Bay to camp for two days. We had a sheet of clear plastic overhead, blanket to sleep on, and the beach not too far. I thought my childhood experiences were camping; however, last night my definition was changed because of a few other factors. Yes, I had Donnell Pond; I slept inside a tent and in a sleeping bag. Many of these items can be substituted for my childhood experiences, but I never recalled, at any time during my brief camping history, having mosquitoes attend the camping outing.
Last night every mosquito called her family members for new blood at the pond. They were like wartime gunfire or city traffic in and out of the tent. All I heard was buzzing all night and to avoid from been eating alive, I positioned my sleeping body like a caterpillar in its cocoon.
—Nena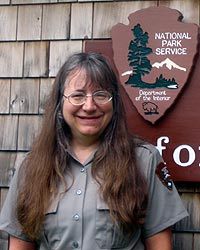 July 2, 2009. Howdy, this is Sharon again! My days continue to be full of new adventures as I explore Acadia National Park and learn about its operations.
Last week we spent two busy days at Schoodic Point in Leave No Trace training. I had wonderful grandparents who taught me to respect nature as a child, so I thought I was all set. I was wrong. Leave No Trace goes far beyond disposing of garbage in the appropriate receptacle. It means carefully watching where you place your foot when you hike, so it is on the most durable surface. It means leaving every rock, seashell, and flower exactly as you found it, so the next person to pass can enjoy the same things you saw. It means stomping through puddles and mud, so you do not widen the trail in an attempt to keep your shoes clean. It means being considerate to all living things, including other humans. What a wonderful program! If we all become better educated, our natural resources will remain beautiful for all the generations that follow us.
I think my favorite ranger programs so far are the programs set up especially for children. It does a teacher's heart good to hear children answer a ranger's question with information they remember from a science class in school! The programs are interactive, having the children act out the part of the earth and moon or a mussel and starfish, to give the children a better grasp of the wonders of nature. The Junior Ranger Program is full of activities for children, and when they complete it they receive a beautiful patch. After all, these children are the future stewards of the park and we need to prepare them well so the legacy continues.
—Sharon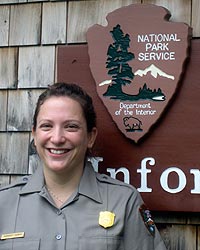 July 1, 2009. Greetings from teacher-ranger number 3. My name is Maggie, and I teach social studies at a small rural school in southwest New Hampshire. There I frequently hike, bike, kayak and chaperone similar trips with our school's Outing Club. A chance to spend the summer working in a national park sounded like a dream come true.
It has not disappointed.
Since my arrival three days ago I have learned more history and biology than I did in three months of preparation for this job. I had studied the Audubon books, trying like heck to learn the difference between a jack pine and a red pine. Ranger Kate takes us on a tour of the island, and within ten minutes, she has provided examples of each, and recited silly mnemonics to help us remember the difference. It was fantastic. Learning the history of the island has been the same. It's one thing to read in a book what happened, but then to be there in person—"oh, that happened here"—everything just falls into place. I have had tours of the island, seen examples of ranger programs, helped monitor beaches for bacteria and I just came off of a walk about plant communities in Acadia. If three days can be this fun and educational I can hardly wait to see what the rest of the summer will bring. Cheers!
—Maggie
June 23, 2009. From a concrete jungle to vegetative wilderness, I am Nena, a science teacher from New York City. As I was flying up the east coast from NYC to Bangor, Maine, not knowing where Acadia National Park was located, I saw a beautiful aerial view of the glacially carved islands. I wanted to ask the gentleman next to me in the airplane if that was Acadia, but he was asleep. Once I had landed and was on my way to Acadia, I asked and a friendly park ranger told me that when flying up the east coast the flight does indeed pass over Acadia. The aerial view was a better sight than I had seen when researching it prior to my traveling.
After a day in Acadia, I attended new employment training. It took several hours, and at this time I learned how national parks operate. I did not know or even think about what makes parks tick. There are quite a number of departments that operate to maintain a national park. I am sure these departments exist in other parks. The national parks have friends that also help them, which I think it is great. Every department has a clear direction and/or path into the protection of a beautiful, well-studied environment such as Acadia National Park.
—Nena
June 23, 2009. Greetings from Acadia! My name is Sharon. I have been given the wonderful opportunity of participating in the Teacher-Ranger-Teacher Program this summer. In my other life I teach seventh grade science, math, and social studies in a small school in northern Maine. Along with my fellow TRTs, I will be learning about the history, geology, and biology of this very special national park and developing curriculum to bring back to my students in the County [Aroostook County]. Though I have only been here a week I have already explored several of the park's various ecosystems, in the pouring down rain. We have only scratched the surface of what this park has to offer. I am looking forward to a new adventure every day!
All of the staff members at the park are very friendly and have a wealth of knowledge ready to share with park visitors. I have viewed peregrine falcons perched on a cliff watching their young take their first flights while listening to rangers explain how they came back from near extinction. While on a walk to learn about some of the plants of Acadia the ranger picked out and identified each birdcall and did an awesome imitation of the birds as well as the croak of the green frog. En route to Islesford another ranger pointed out seals, cormorants, and a nesting osprey. Finally, in a soaking wind-blown rain on top of Cadillac Mountain, I learned about what first brought people to the island. Like postmen, these dedicated people are here to do their job, no matter what the weather!
—Sharon