Rules Governing Science Education Activities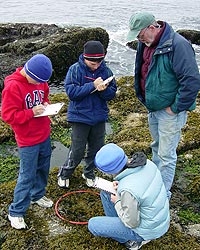 Acadia National Park has been a magnet for scientists and naturalists for well over a century due to its distinctive geology, varied flora and fauna, and a richly diverse cultural history. With your impending visit, you are continuing this long tradition of natural and cultural study at New England's only national park. In order to protect park resources for future generations of visitors, educators, and students, we are requiring all education groups conducting activities in the park to adhere to the following rules. Thank you very much for your cooperation.
Fieldwork is restricted to observational study only (non-destructive sampling, compass and map work, direct counts, etc.).
Excavating, digging, disturbing, or collecting geological materials (including soils), plants (including roots, stems, leaves, flowers, and fruit), vertebrate, invertebrate, paleontological, or archeological specimens is prohibited. Use of rock hammers for geological field study is not permitted. In certain limited circumstances, these activities may be approved, but a National Park Service collecting permit is required. For more information about procedures for obtaining a permit, contact the chief of resource management at 207-288-8720 at least 45 days in advance of your planned visit.
Use of flagging or other marking devices is prohibited and you may not leave any personal equipment unattended.
All locations where fieldwork is conducted must be returned to the conditions in which they were found before the start of your educational activities.
Group sizes for educational field trips are recommended at a maximum of 20 people in any one location at any one time. Larger groups should contact the park education coordinator at 207-288-8822 for suggested locations and activities.
Your class must make reasonable efforts to follow Leave No Trace outdoor ethics principles during all field activities to minimize impacts on park resources or experiences of other park visitors. Prior to visiting the park, all instructors must read the enclosed one-page summary (pdf) of Leave No Trace principles and discuss with their class how to reduce their impacts by practicing Leave No Trace techniques.
The National Park Service strongly recommends that the group have basic first aid items and communications (cell phones) with them while working in the park.