Passamaquoddy Kit Timeline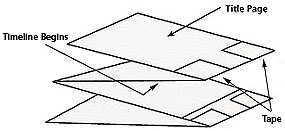 Below is a sample timeline that the students can create using the timeline templates. Individual panels can be taped together into one long piece that will fold like an accordion. Through this exercise, it is hoped that students will not only learn about historic Passamaqoddy events but also place them within the context of other significant events throughout the world.

A digital representation of a timeline is available and gives a good idea as to what a student's finished product will look like. To navigate about the
Quicktime timeline
(339 kb) wait for it to load and then use your mouse to click and drag within the image to the right or left.