Winter Hiking Leave No Trace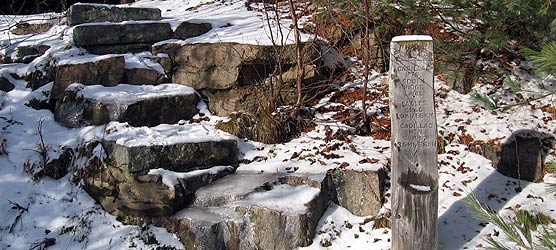 NPS/Todd Edgar
Principle 1: Plan Ahead and Prepare
Special Concerns
Darkness comes early.
A weather forecast is essential.
Everything takes longer, from tying your boots to your forward progress.
Errors in judgement are compounded by less wiggle room.
Conditions change day to day, even hour to hour. Anticipate them.
Hike with someone unless you're experienced and fully prepared. If you hike alone, tell someone your plans or leave a note in your car.
Wind, wet, and cold = hypothermia, which can be a killer even at 30–50 degrees. There is nothing worse than cold rain or wet snow. You can get wet from the inside out too. Pace yourself to sweat less. Shivering is first stage hypothermia.
Have the right equipment and clothes.
Take good socks, boots, hat, gloves, rain gear, gaiters, trekking poles, headlamp, water, food, compass and map, first aid kit, firestarter, and emergency bivy gear.
Layer clothes to regulate temperature. Your inner layer should wick perspiration. Carry a second inner layer to change into if needed.
Feet and hands get cold first; be alert for frostbite. Keep moving to warm your feet. Wear a hat.
We generate a lot of heat when hiking. The corollary: You will never feel colder than when you are unable to move. Carrying a sleeping bag is not out of the question. Will you have what it takes to comfortably spend one night out?
Take plenty of water and drink it. It's much easier to get dehydrated in winter. Eat high energy foods. You will burn the calories and fat.
Ice is everywhere, and many trails require crampons or similar gear.
Have the right skills.
Hike your trail in summer several times and know your area well. Everything looks very different with six inches of snow. In three feet of snow, trails are unrecognizable. Blazes are covered in snow, and branches hang down, obscuring the way. Cairns are snow covered, and summer visitors may irresponsibly build other cairns that may confuse you.
Know how to build an emergency fire. It provides psychological warmth too.
Know how to use a compass and read a map.
GPS and cell phones should never take the place of basic skills and good judgment.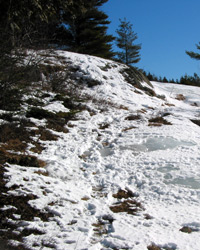 NPS/Charlie Jacobi
Principle 2: Travel on Durable Surfaces
Stay on the trail or on a durable surface. Staying on the trail keeps you safe and protects trailside soils and vegetation in summer or winter. No matter how icy, rocky, wet, or muddy the trail is, you must be prepared to stay on it, often with special equipment. Think twice before cheating around the edges. Going around makes trail wider. Don't grab that tree to pull yourself up the ice—it will break branches and strip needles off.
Ice (if you are prepared) and rock are durable. Sometimes deep or hard-packed snow is too, but walking on shallow or loosely packed snow may crush vegetation underneath. Vegetation is especially fragile in winter.
Acadia trails are very icy because of mixed precipitation and frequent freeze-thaw cycles along the coast. A 4- to 6-inch snow cover makes hiking somewhat safer—there less slippage on the ice below. Beware though, ice can be anywhere under the snow, and you can slip anytime.
Because of ice, some trails become nearly impassible without crampons, an ice ax, or other gear. Many others are very difficult and dangerous. Ask about conditions, which may change every few yards, from ice to dirt to rock to snow and back to ice. Crampons will damage granite and gravel. And rocks will chew up crampons or anything else in short order. Are you willing to take them on and off as needed?
Every trail has an icy crux—the most difficult part—somewhere. How will you manage it? While you can sneak up some ice flows without crampons, coming down them can be a heartstopping rodeo.
If you must go off trail to get around ice hazards, go far off and don't come back for a long way—spread your use and impact. Use the most durable surfaces available and avoid pushing your way through dense vegetation, which will snap branches off.
---
Principle 3: Dispose of Waste Properly
It's difficult to dig a cathole in frozen ground under two feet of snow. Dispose of solid human waste 200 feet from trails and water in deep snow. Use two plastic bread bags to carry out toilet paper. Or practice planned peristalsis at home.
Carry out everything you carry in.
---
Principle 4: Leave What You Find
Remember, you may only collect firewood for campfires at designated campgrounds and picnic areas within the park, certain fruits, nuts, and berries, and unoccupied seashells. Learn more about what you can and can't collect.
---
Principle 6: Respect Wildlife
Winter is a time of stress for wildlife. Give them plenty of space. Snowy owls sometimes spend winters on Acadia's summits. Day-active snowy owls are usually stressed for food. If you see one perched, it's probably hunting. Keep quiet, observe it from a distance, and consider descending to avoid spooking it. A handful of hikers spaced out over a day may keep an owl off prime hunting grounds.
---
Principle 7: Be Considerate of Other Visitors
Quiet and solitude are more attainable at Acadia in winter. Everyone can find a little if you keep your group small, your voices low, and your dog on a leash.
Getting up the mountain is optional.
Getting down is not.
Turning around is okay.