Principle 6: Respect Wildlife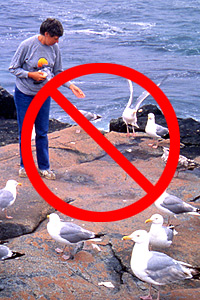 Do Not Feed Wildlife.
Store Food and Trash Securely in Campsites.
Wild animals fed by people often starve in winter, get hit by cars, or become dangerous pests. Feeding may alter migration, foraging behavior, and reproduction. Human food is not nutritious and not intended for digestive systems of wildlife.
Gulls, squirrels, chipmunks, and raccoons are wildlife too.
People feeding wildlife may be injured or contract rabies.
Observe Wildlife from a Distance
Deer, bear, and moose can hurt you. The rabies shot series is no picnic either.
You may observe more interesting behaviors by keeping your distance (be patient).
Wildlife are especially sensitive to disturbance when breeding, nesting, and feeding, and also in winter. If wildlife alter their behavior, you are too close. For an eagle, this may be simply a turn of the head or a shrug of the shoulders.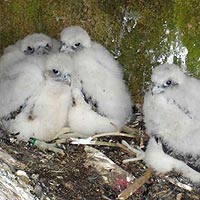 Do Not Enter Wildlife Closure Areas
Rangers close certain areas and trails during breeding and nesting seasons for peregrine falcons, bald eagles, loons, goshawks, and seabirds. Closures help protect both young birds and hikers; aggressive goshawks have injured visitors.
More information trail closures and island closures is available.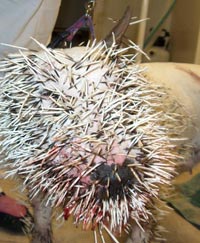 Leash Your Dog
Park regulations require that pets must be leashed (six feet or shorter) and attended or otherwise confined at all times.
Dogs may harass and kill wildlife, disturb other visitors, and dig into soil, which damages vegetation.
Dogs can be injured by wildlife (especially porcupines) or falls, or become infected with rabies.
Although dogs are permitted in most areas of the park, there are some exceptions, including swimming beaches during certain times of the year, public buildings, ladder trails, and other locations. (Service animals may accompany their owners throughout the park.) Detailed pet information is available.