Carriage Roads Closed

All park carriage roads are closed until further notice to prevent damage during the spring thaw. For more information: (207) 288-3338
Trail Closures: Peregrine Falcon Nesting

Precipice Cliff and Valley Cove areas are closed to all public entry until further notice for peregrine falcon nesting season. More »
Blackwoods Campground is open

Blackwoods Campground is open and is sites are available by self-registration at the campground. More »
2014 Season Openings

Park Loop Rd, Cadillac Mountain Rd, & Hulls Cove Visitor Center is open. Call (207) 288-3338 or follow us on Facebook (www.facebook.com/AcadiaNPS) for more information More »
Jordan Pond boat ramp parking lot is closed for construction

It's scheduled to reopen on June 28. There may be intermittent openings at the discretion of the contractor. The North Lot parking area will remain open for access to the Jordan Pond House Restaurant & hiking & biking trails.
Professional Development
Alongside other teachers, scientists and specialists we experiment with activities for your classroom, and discuss educational methods, tools, and resources. Professional development credit is provided by the University of Maine.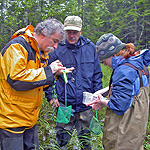 Teacher Workshops
Learn More
Imagine spending your summer hiking through spruce-fir forests, exploring tidepools, or sailing on clear waters in search of bald eagles, porpoises, and seals! Leave your classroom behind to do all this and more as an Acadia National Park Teacher-Ranger-Teacher. Bring your stories and lessons of Acadia back to your students.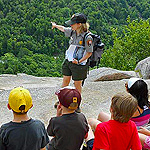 Become a Teacher-Ranger-Teacher
Learn More