Trail Closures: Peregrine Falcon Nesting

Precipice Cliff, Valley Cove, and Jordan Cliff areas are closed to all public entry until further notice for peregrine falcon nesting season. More »
Cultural Connections programs rescheduled for 7/16/2014 due to weather

Ash Log Pounding demo will take place today 11 am-3 pm at the Abbe Museum downtown (26 Mount Desert St, Bar Harbor). The Burnurwurbskek Singers have been rescheduled to perform on Cadillac Summit next Wed, July 23 at 11 am.
Trail Closure: Gorge Path weekdays, 7 am - 4 pm

The section of the Gorge Path between the Hemlock Path intersection and the A. Murray Young Trail intersection is closed until rehabilitation work is completed. The closure will be in effect Mondays through Fridays only, from 7 am to 4 pm.
Professional Development
Alongside other teachers, scientists and specialists we experiment with activities for your classroom, and discuss educational methods, tools, and resources. Professional development credit is provided by the University of Maine.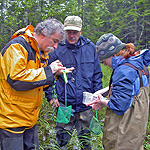 Teacher Workshops
Learn More
Imagine spending your summer hiking through spruce-fir forests, exploring tidepools, or sailing on clear waters in search of bald eagles, porpoises, and seals! Leave your classroom behind to do all this and more as an Acadia National Park Teacher-Ranger-Teacher. Bring your stories and lessons of Acadia back to your students.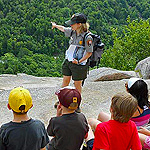 Become a Teacher-Ranger-Teacher
Learn More